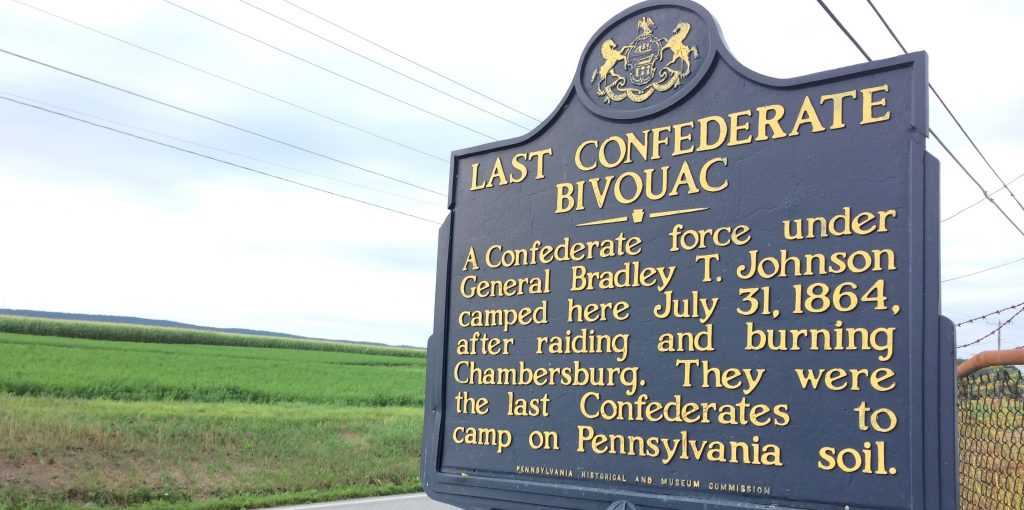 What Native American tribes lived in this area?
Delaware or Lenni Lenape, Tuscaroras and Iroquois
How do you pronounce Conococheague and what does it mean?KAH-no-kah-cheeg meaning "A long, long way indeed." The Conococheague Creek is 80 miles long and extends from the Franklin/Adams County line on top of the mountain south to the Potomac River.
Where is Benjamin Chambers buried?
Falling Spring Presbyterian Church on North Main Street. His grave is a large white monument enclosed by a brick wall.
What area of Chambersburg was burned?
The destruction was concentrated in the middle of town, with large buildings, homes and businesses alike being destroyed. The courthouse was burned as well. There were no residents killed during the burning of Chambersburg.
What buildings in Chambersburg were spared?
- The Old Jail (this was believed to be a stopping point on the Underground Railroad)
- Building that is currently Sellers Funeral Home (this is also where Benjamin Chambers died)
- Local churches (they were being used as hospitals at the time)
- Masonic Lodge (reputedly a Southern Masonic member asked that the building not put to the torch)
- Rev. Kennedy's house
- Building that is currently Gartenberg Jewelry
Where is the nearest Lincoln Highway stone marker?
Chambersburg Post Office, Lincoln Way East and Third Street