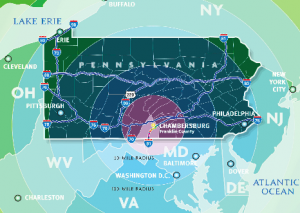 Businesses are attracted to Chambersburg's excellent location, which is ideal for reaching industrial and consumer markets of more than 100 million people by truck, rail, sea or air. Chambersburg is within 500 miles of half the U.S. population and situated within a 100-mile radius of Baltimore and Washington, D.C., and a 150-mile radius of Pittsburgh and Philadelphia. Harrisburg, the Pennsylvania capitol, is less than an hour's drive from Chambersburg.
Franklin County is well situated for future development, with more than 1,500 acres of developable land available off Interstate 81 - the second most traveled interstate east of the Mississippi River. Franklin County is among the micropolitan leaders in attracting new corporate facilities or expansions, according to Site Selection magazine, a publication of the Industrial Asset Management Council.
Chambersburg's ideal location combined with the educational opportunities of three colleges/universities and quality technology and vocational training, Chambersburg features a robust business climate to complement its scenic beauty, low cost of living and wide variety of leisure time activities.
Business Demographics Resources
Locate Your Business in Franklin County
For more information about available properties in Chambersburg and Franklin County, contact the following economic development corporations:
Chambersburg Area Development Corp. - Manages industrial development at business parks in the Chambersburg area.
Cumberland Valley Regional Development Corp. - Manages the United Business Park located off Interstate-81 Exit 24 near Shippensburg, which is currently recruiting businesses.
Downtown Chambersburg Inc. - Spearheads business development in our downtown, helping to retain existing businesses and attract new ones.
Franklin County Area Development Corp. - Strives to create an atmosphere that nourishes planned growth and family sustainable employment opportunities, including the retention and expansion of existing employers, the selective attraction of new businesses and assisting with the start-up of new businesses.