State Legislators Attend 5th Annual Legislative Breakfast
A panel of six state legislators gathered to discuss issues regarding unemployment compensation, the Pennsylvania state budget, education and more with the business community at the 5th Annual Franklin County Legislative Breakfast held recently in Chambersburg, Pa.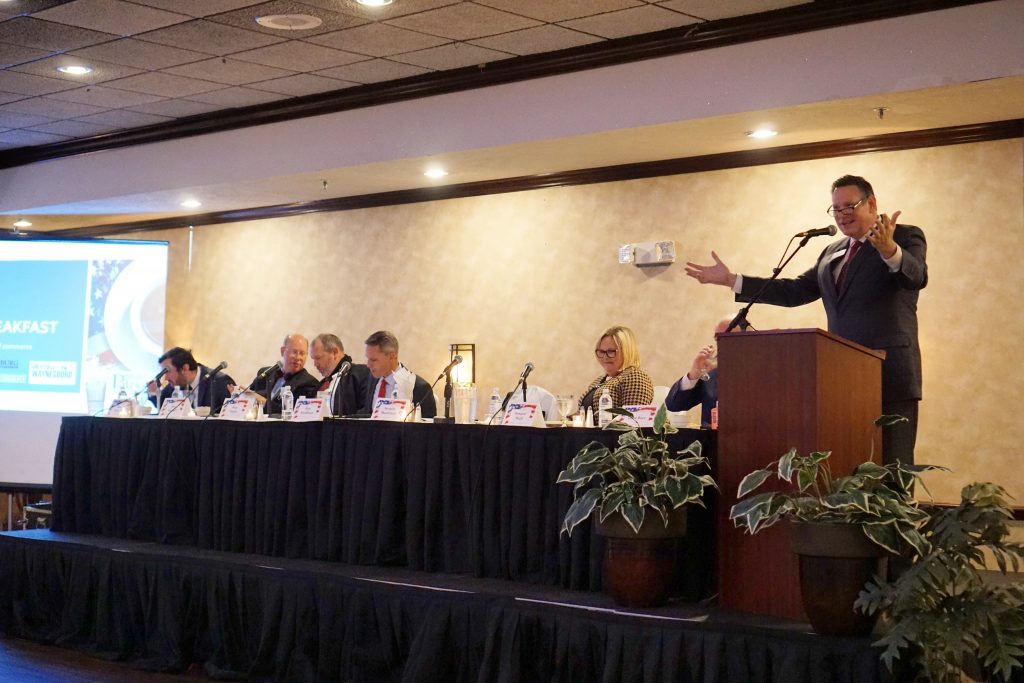 Moderated by Gene Barr, president and chief executive officer of the Pennsylvania Chamber of Business & Industry, the panel of legislators included Senator Doug Mastriano, Senator Judy Ward, Representative Johnathan Hershey, Representative Rob Kauffman, Representative Paul Schemel and Representative Jesse Topper.
Hosted by the five local chambers of commerce on behalf of the Franklin County Government Affairs Committee, the event encouraged state legislators to discuss the focus of their current agendas and issues most pressing to the business community. Areas addressed included the state budget, business liability reform and the effect of education on the local economy.
"The annual Legislative Breakfast plays a big role in our community; it provides a much-needed opportunity for our business members to communicate directly with the leaders who have a hand in our economy through their positions in state government," said Stephen Christian, president of the Greater Chambersburg Chamber of Commerce.
Representatives Schemel and Topper put special emphasis on Pennsylvania's need to retain its talented potential workforce. They pointed out that, while the state boasts top-notch education and is an excellent place to retire, many young and employable people are relocating to other states upon graduation.
In addition, Gene Barr expressed the Pennsylvania Chamber's commitment not only to "Bringing PA Back," as their campaign suggests, but to strengthen the economy above and beyond its record high of January 2020. This initiative, called "Rise to the Challenge," begins with a free virtual session on October 29. Visit PAChamber.org for more information.
Attendees also had the opportunity to participate in a Q&A with the panelists to talk about local issues such as early childhood education, a topic that Senator Ward identified as a critical component of her agenda.
Special thanks to Grand Sponsor Patriot Federal Credit Union, the members of the Franklin County Government Affairs Committee as well as the representatives from the Greater Chambersburg Chamber of Commerce, Greater Waynesboro Chamber of Commerce, Greencastle-Antrim Chamber of Commerce, Shippensburg Area Chamber of Commerce and Tuscarora Area Chamber of Commerce.