Member Spotlight: The Institute at Renfrew
The Institute at Renfrew is celebrating 30 years of serving the community with programming that educates and entertains.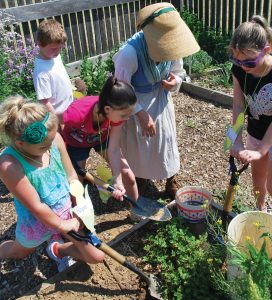 Three decades ago, to address a growing enthusiasm for elementary school programming, the board of Renfrew Museum and Park created a separate nonprofit organization; Renfrew Institute for Cultural and Environmental Studies began operations in 1990. Last year, to shine a light on the organization's independent operations—linked in a unique partnership through which it is headquartered at Renfrew Park—the organization changed its name and became The Institute at Renfrew.
The Institute records nearly 9,000 student visits annually. School children from pre-school through grade six experience authentic learning through a series of hands-on environmental and Pennsylvania German farm life programs. This year, offerings will expand with new programs for middle schoolers and Pre-K students. Summer Institute brings kids into the park for weekly storytelling, a nature discovery program and other fun happenings.
In addition to programs for children, ongoing community learning offers cultural, scientific and environmental lectures, bird walks, field trips and workshops. Thousands attend free community events such as Earth Celebration Day, Youth Festival, Shakespeare in the Park and Jazz Fest. These are supported by four annual fundraisers, student fees, partnerships and memberships.
Learn more about The Institute at Renfrew at InstituteAtRenfrew.org
Thank you for your membership! Is your business interested in being spotlighted? Contact Laiton at lsuders@chambersburg.org or 717-264-7101.