OIP Donates $12,000 to Central PA Food Bank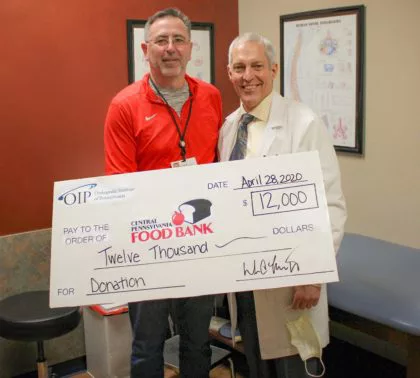 The Orthopedic Institute of Pennsylvania's charitable foundation recently donated $12,000 to the Central PA Food Bank in support of the food bank's effort to distribute healthy, nutritious food to some of the most vulnerable in Central Pa. The donation will supply approximately 70,000 meals to thousands of households and individuals in Dauphin, Cumberland, York and Perry counties through Crisis Response Boxes.
"What makes this special to OIP, is that we're able to give back to the local communities that are at the heart of what we do," said Will Thompson, CEO of Orthopedic Institute of Pennsylvania. "Through the Orthopedic Institute of PA Foundation Fund, of the Foundation for Enhancing Communities, we are able to reach outside our walls and tangibly help those in need."
Thompson says "As we are here to serve our patients through this pandemic, we also understand the needs of our local community. Part of the mission of our foundation is to support those within our own backyard who may be facing difficulties."
"We are so thankful to OIP for providing much-needed support to our Crisis Response," said Joe Arthur, Executive Director of the Central PA Food Bank. "The Central PA Food Bank and its partner network have provided over 50% more food in the last month than in previous months and we believe demand will grow further as the economic crisis continues. Support like this also helps us provide the healthiest foods available."
The Central PA Food Bank welcomes this donation, and invites others to help bring food to needy families by making financial donations to the food bank. To make donations to help with the increased need in Central Pennsylvania communities during the COVID-19 Pandemic, visit CentralPaFoodBank.org. People in need of food assistance can call the Central Pennsylvania Food Bank's helpline at 1-877-999-5964.
For orthopedic needs, OIP's walk in clinic is open 7 days a week. Call 1-888-OUCH-OIP or click here for more information. OIP would like to encourage all those who are able to give to the Central Pennsylvania Food Bank to do so at this time.