Orrstown Bank Official Participates in White House Event
Orrstown Bank recently announced that Luke Bernstein, Executive Vice President and Chief Retail and Communications Officer of the bank, recently participated in a special White House event at the invitation of President Donald Trump and delivered remarks to the nation.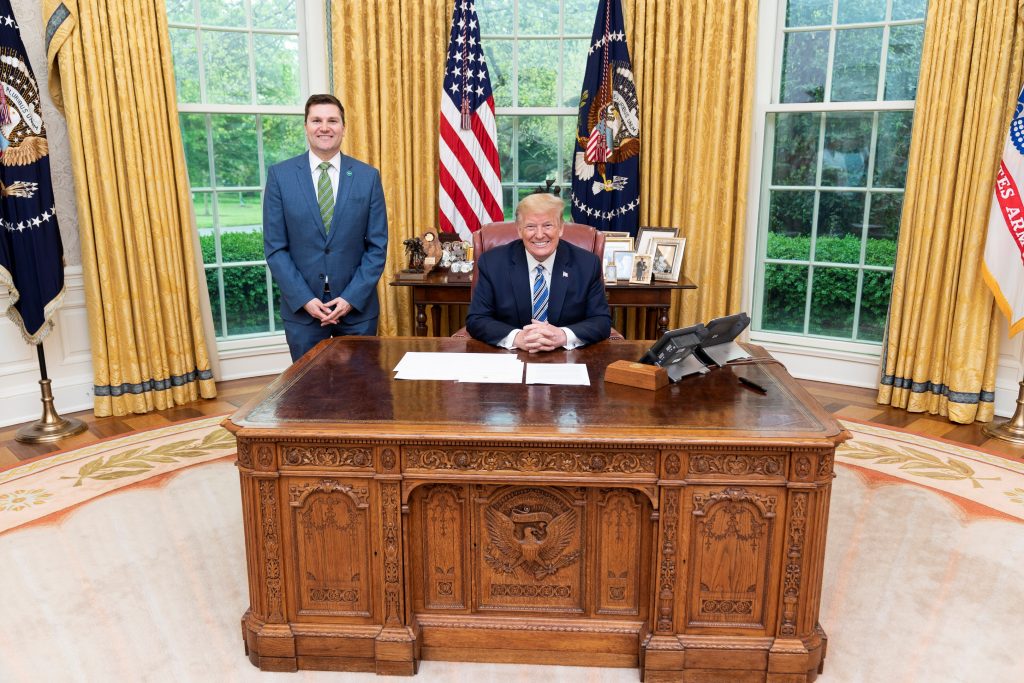 "It was an incredible honor to represent Orrstown at the White House, and share our story with the President and the nation," said Luke Bernstein, Executive Vice President. "Our story is about people working together, around the clock, to assist one another during these extraordinarily difficult times. The Paycheck Protection Program is not about Orrstown; it's not about banks; it's about people. Our story goes beyond our talented team and extends to the communities we serve, and includes every single small business and employee that we have been able to support. Since the initial launch of the Paycheck Protection Program, community banks like Orrstown have been leading the way in helping communities navigate through these uncharted waters and access the funds they need to support their operations. Our team has been working under challenging circumstances in an effort to support every person we possibly can, and we are incredibly proud of our efforts to help when and where help is needed most. The entire Orrstown team is forever grateful for the opportunity to share this story with the President. We want to thank President Trump, Secretary Mnuchin, Administrator Carranza, and Congress for empowering community banks like Orrstown, and for supporting our communities through the Paycheck Protection Program."
President Trump hosted small business owners from across the country on Tuesday to discuss the significant impact that the U.S. Small Business Administration's (SBA) Paycheck Protection Program (PPP) is having on their businesses and their ability to continue operations during this extraordinary and difficult time in our nation's history.
Bernstein of Orrstown Bank was invited to speak at this event about the role that community banks are playing in delivering these much-needed funds to this important segment of our economy. Bernstein, along with other small business leaders, met with President Trump in the Oval Office.
As an approved SBA lender, through the first round of the PPP, Orrstown Bank has already assisted nearly 1,500 businesses throughout the region in obtaining more than $370 million in funding approvals through the Paycheck Protection Program. According to S&P Global Market Intelligence, Orrstown Bank ranked ninth in the nation among all banks in PPP loans approved in the first round of funding as a percentage of their total loans. Orrstown continues to assist businesses in applying for the second round of funding recently approved by Congress.
Administration officials joining President Trump at the event included Treasury Secretary Steven Mnuchin, SBA Administrator Jovita Carranza, and Advisor to the President, Ivanka Trump.
A link to the entire event (Bernstein remarks at 22:43): https://www.youtube.com/watch?v=id3s95FB7CI&fbclid=IwAR25crhmpo1AtRzG7duenCSVo6BYboEi_VspyMI-Rq75sb7Y-yOX4SOQvvQ