Chamber Honors Business and Community Members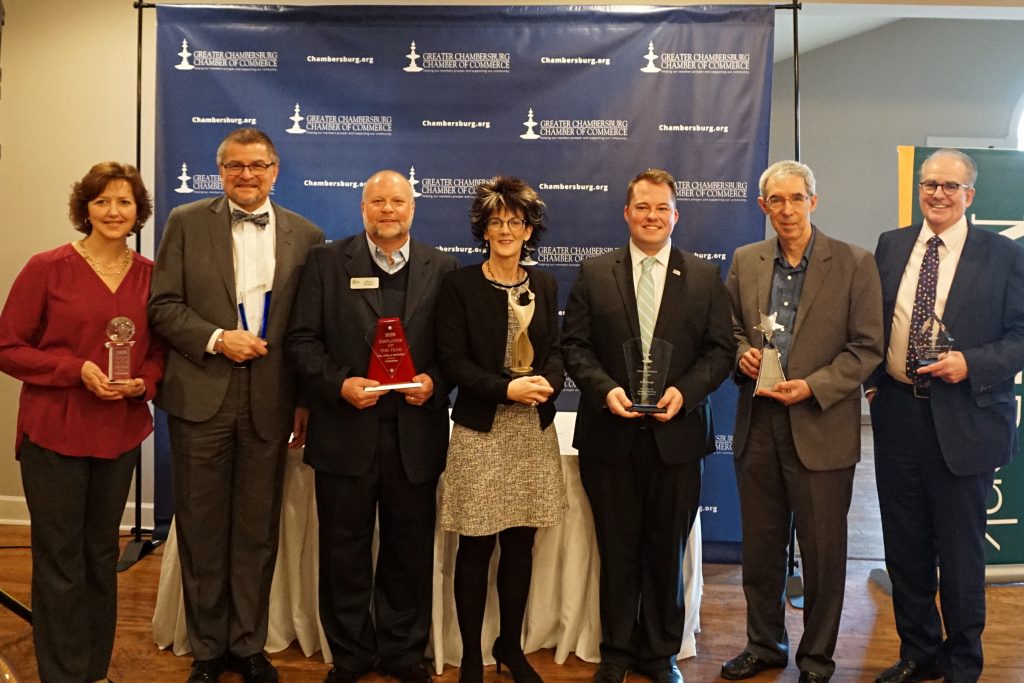 The Chambersburg Chamber honored eight of its members for their phenomenal achievements with more than 220 people in attendance at the Chamber Awards Breakfast this morning, sponsored by M&T Bank.
"We are immensely grateful to our exceptional business and community members for their contributions," said Stephen Christian, president of the Chamber. "It's an honor to recognize these leaders for their commitment to helping Franklin County prosper."
The sold-out Breakfast at the Chambersburg Country Club included the presentation of two brand new awards, as well as a keynote address by Dr. Francis Achampong, chancellor of Penn State Mont Alto. Dr. Achampong highlighted the work of the Penn State Mont Alto LaunchBox, an initiative dedicated to the advancement of local entrepreneurs.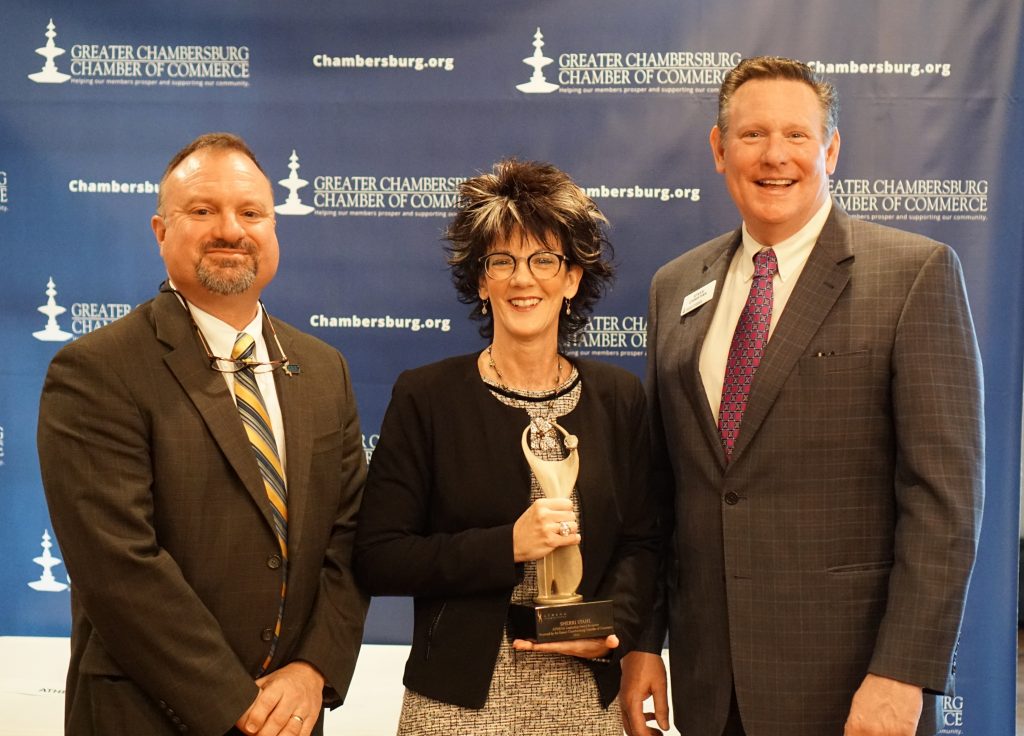 Sherri Stahl, senior vice president of hospital services at WellSpan Chambersburg Hospital, accepted the International ATHENA Leadership Award. The award honors an individual who exemplifies professional, community and personal leadership as well as someone who actively assists women in reaching their full leadership potential and/or personal and professional goals. The ATHENA award is sponsored locally by Jennings Chevrolet, Buick, GMC and F&M Trust.
Sherri Stahl began her career as a candy striper at Chambersburg Hospital and has demonstrated her abilities as a leader during her path to senior leadership; holding titles such as Clinical Manager and Chief Nursing Officer. Sherri is known for her ability to lead her organization through difficult situations with initiative and respect; always advocating for the right decision to keep WellSpan Health in the true-north of best medical practices.
Sherri's leadership extends far beyond the walls of WellSpan Health and can be credited for developing the future of health care in our region. Sherri was instrumental in securing new technology equipment for nursing students at both Penn State Mont Alto and Wilson College. She's also inspired and mentored many women to achieve their full potential.
Sherri is valued by many for her service in many local organizations including the Leadership Franklin County Advanced program, serving as secretary on the Chamber board for eight years, active membership in the Wilson College Honor Society for Nursing, serving on the board for Hospice of Franklin County, volunteering at the Cold Weather Shelter and supporting the local Youth Group at Chambersburg Church of the Brethren.
Also presented during the ceremony were the following awards:
Innovator of the Year: Dr. Nicholas Wendell, Wendell Chiropractic & Rehabilitation
This award recognizes an entrepreneur, business owner or key manager who has succeeded through innovation and risk-taking in introducing new products or services, or growing an existing product line through a unique approach.
Dr. Wendell of Wendell Chiropractic & Rehabilitation is from Bedford, PA and has a practice in the Mercersburg area. Since opening an office in Franklin County, he has adopted a new, cutting-edge technology called Class IV Laser Therapy. This is a non-invasive therapeutic laser therapy that does not burn or cut through the skin because the action is photochemical. Dr. Wendell also offers a state-of-the-art decompression table. This is a highly successful treatment for patients suffering from bulging, herniated, degenerative or ruptured discs as well as carpal tunnel syndrome and failed back surgery cases. He is focused on the betterment of his patients and works tirelessly to ensure patients receive the best care possible.
Nonprofit of the Year: Drew Michael Taylor Foundation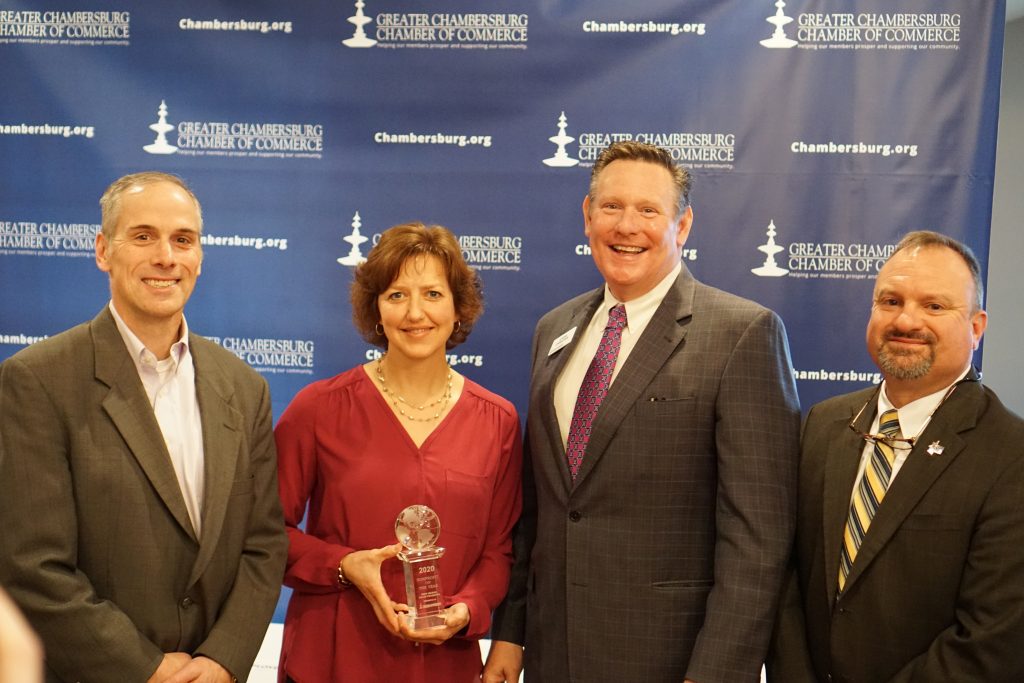 Presented by the Greater Chambersburg Chamber of Commerce and United Way of Franklin County
The Nonprofit of the Year award recognizes a nonprofit organization whose innovations address areas of need to improve the prosperity of Franklin County.
The Drew Michael Taylor Foundation was recognized as the Nonprofit of the Year for its quality grief education and support programs for children, teens and adults. In the last two years, the Foundation has expanded its adult grief support groups to include substance abuse death, bereaved parents, GriefKnits and The Perfect Blend: Coffee, Crafting and Conversation. They also offer children and teen grief workshops, such as A Frozen Grief Journey and A Pirate's Grief Journey. Additional resources include community workshops, educational programming and a grief – loss lending library of books and DVDs for adults and children.
The Foundation's monetary resources can only be used for their grief education and support programs. As a result, Marcie Taylor has given many grief-related informational talks to local service organizations, school districts, businesses and churches. The Foundation is involved with many collaborations and partnerships throughout the area including the Shippensburg Association of Christian Ministries, the Franklin County Community Forum and the Shippensburg Community Resource Coalition, Shippensburg Area Chamber of Commerce, Shippensburg Rotary Club and the Chambersburg Chamber. The Foundation's many programs and resources have given hope and support to countless grieving families in our area.
Spirit of the Community: Patrick O'Donnell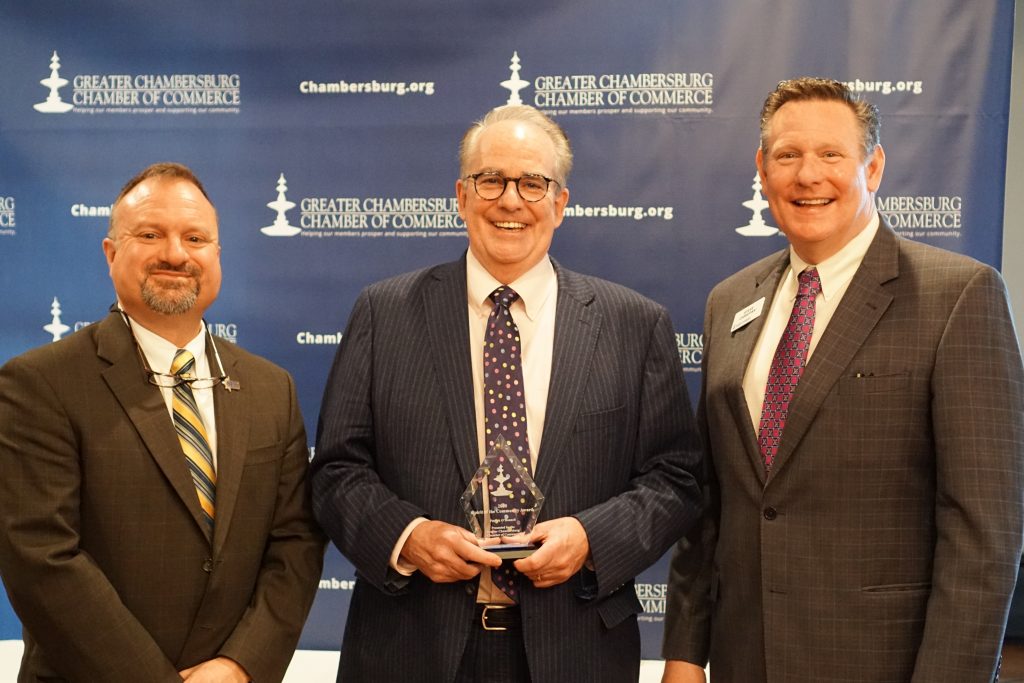 The purpose of this award is to recognize an outstanding individual who has demonstrated a tireless and unselfish commitment to improving the quality of life in Chambersburg beyond the role of their career.

Pat O'Donnell works each day to make the world a better place; his dedication to our community outside his role in health care shows his observance of that goal. Pat is the president and CEO of WellSpan Summit Health and executive vice president of WellSpan Health and has led the local health system for more than 30 years. His contributions have included assisting with funding for major road projects while also volunteering to many community organizations. He's actively involved with and supports Women in Need, the Greater Chambersburg Chamber Foundation, Keystone Rural Health Center, the Chambersburg Chamber, the United Way of Franklin County, Falling Spring Presbyterian Church, Chambersburg Area YMCA and the Chambersburg Exchange Club. He and his wife Pam have spent years delivering Christmas meals and presents to the homes of needy children in the community. In addition, Pat has a tradition of dressing as Santa Claus and visiting with hospitalized children and their families. Pat's contributions have helped many people while also inspiring the next generation of leaders in Franklin County.
Volunteer of the Year: Dr. Michael Doncheski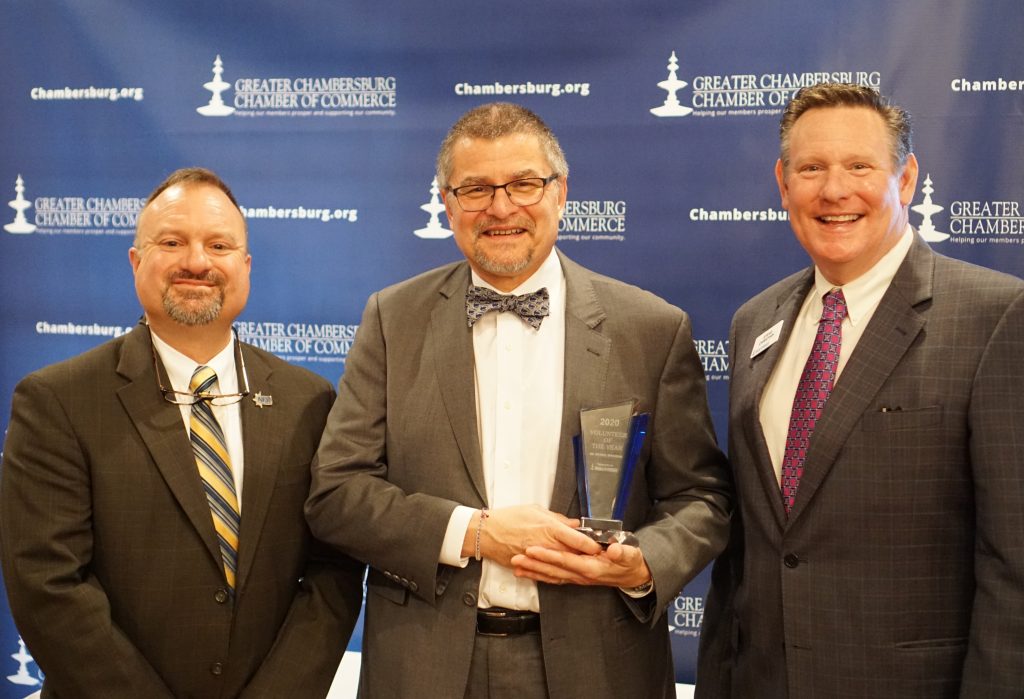 The purpose of this award is to recognize the contributions of a volunteer who has shown a tireless dedication and commitment to the Chamber and the community.
Dr. Mike Doncheski has been a mainstay on the Chamber Foundation board and has shown exceptional commitment over the last several years. He was instrumental in advancing the workforce development aspect of the Chamber Foundation, and most recently helped establish the Leadership Academy for Educators in partnership with Penn State Mont Alto and ScPA Works. He volunteers actively on the Chamber Foundation board, Scoop-a-Palooza Committee, Community Education Coalition and Leadership activities. Mike is a humble, diverse and well-rounded person who gives of his time on a weekly basis behind the scenes to support the endeavors of our community.
Emerging Business Leader: Jake Naugle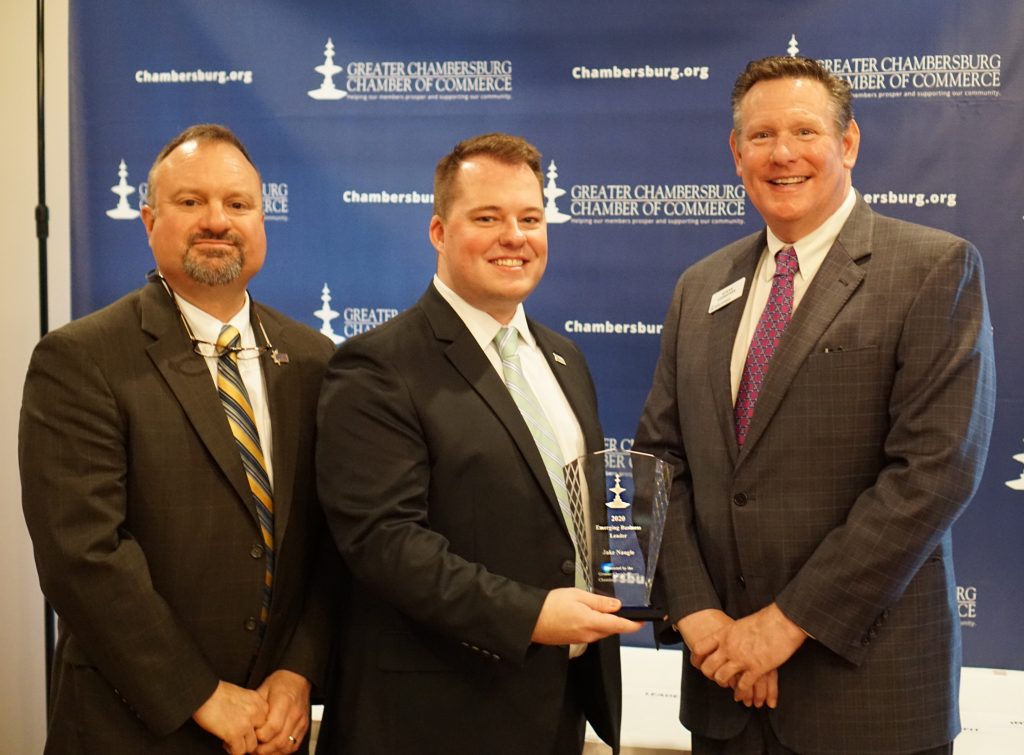 Presented by the Greater Chambersburg Chamber of Commerce and 11/30 Network
The purpose of this award is to highlight and promote the talent of the next generation of leaders in our community. The Emerging Business Leader award recognizes an individual who is pursuing excellence in their career and has made valuable contributions to the community through civic engagement.
Jake Naugle began his career at Patriot Federal Credit Union in 2012 as a member services representative. Over the years he has swiftly worked his way up in the company to achieve the promotion of director of real estate lending. In his current role, he leads a team responsible for the credit union's entire mortgage originations and home equity lending areas. His focus, commitment and willingness to lead by example as well as demonstrating professionalism, customer service and critical thinking have driven his career growth. He is a 2015 graduate of the Leadership Franklin County class and has been involved with the 11/30 Network since its creation by the Chambersburg Chamber. He has served on the Chamber's Accreditation committee and other committees including 11/30 Network, Oktoberfest, Sip & Savor and IceFest's Chili Cookoff. He currently serves on the Chambersburg Chamber's board of directors and volunteers with the United Way of Franklin County.
Event of the Year: 22nd Annual Trout Derby, organized by the Chambersburg Noontime Lions Club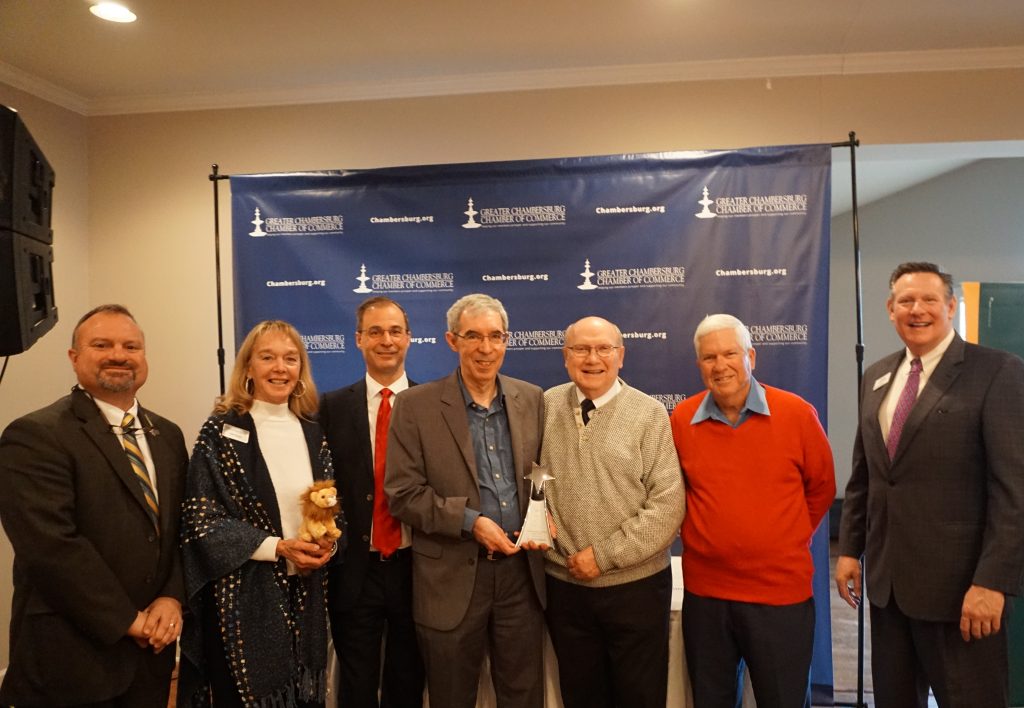 The purpose of this award is to recognize excellence in an event executed in 2019 that meets local community needs. The event is judged on its purpose, scale, audience and community benefit.
For the past 22 years, the first full weekend in May is a special time in Chambersburg because it is the weekend of the Noontime Lions Trout Derby. The annual Trout Derby is the sole source of income used by the Club to fund the community and Lions Club international activities supported by the Noontime Lions. In 2019, the club generated a net income of $29,000. That brings the total raised during the event's 22 years to over $428,000. More than 750 fishermen and fisherwomen participated in the 2019 event with a chance to win cash prizes ranging from $25 to $2,500. People from throughout the state as well as Maryland, West Virginia and Virginia attended.
Income raised during the Trout Derby is returned to the community in many ways. The Club has pledged $10,000 over a five-year period to the Coyle Library Building Campaign, contributes to scholarships for Chambersburg High School Seniors, sponsors the CASHS Boys Basketball Banquet and provides free or reduced cost eye exams and glasses to individuals in need. Over the years, financial contributions have also been made to many local nonprofits including United Way of Franklin County, Meals on Wheels, Salvation Army, American Cancer Society, NETwork Ministries, WellSpan Community Health and Cancer Support Programs, Downtown Chambersburg Inc., IceFest, the Chamber Foundation, veterans organizations and many others. The event has become part of Chambersburg and provides a fun activity for fishermen while supporting the greater community.
Employer of the Year: SEK, CPAs & Advisors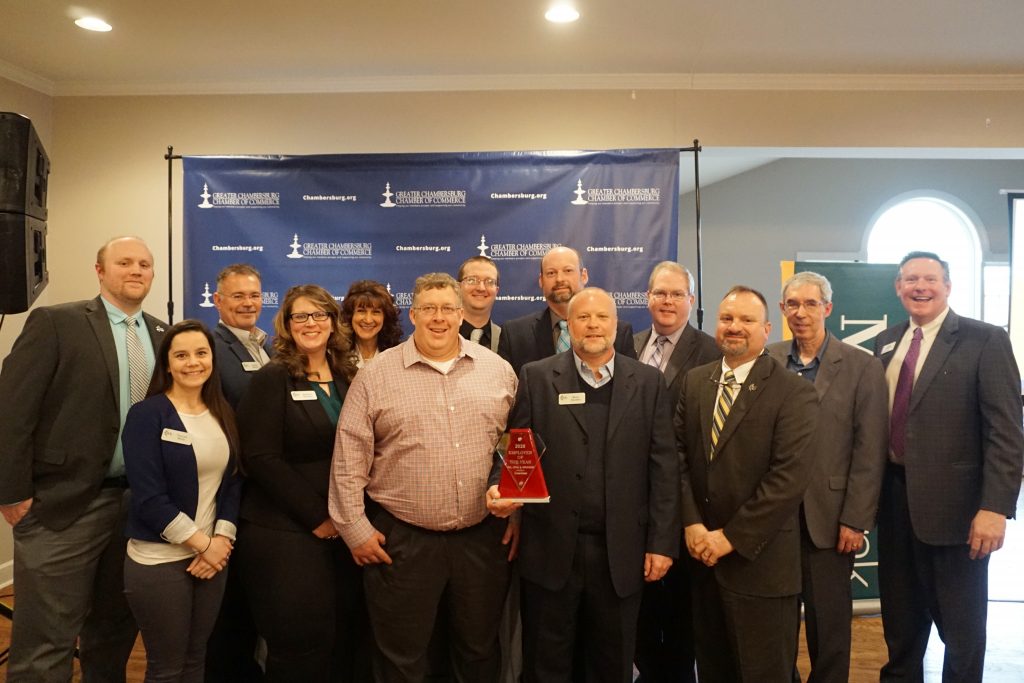 The purpose of this award is to recognize a company that has created an outstanding workplace with a committed, effective and motivated workforce. To enter, the business must submit examples of workplace policies, demonstrate its support of employee training, recognition or job development and provide at least two employee testimonials that depict why their employees agree their business is the best employer.
SEK, CPAs & Advisors' working conditions, wages and benefits are competitive with those offered by other employers in the area. SEK recently formed a young professional group internally to really "hear" their concerns. They have since adopted several new policies stemming from what the young professionals suggested. These policies ranged from simple comforts such as wearing jeans when they aren't meeting with clients to more specific amenities in their profession, such as allowing work time to study for the CPA exam. Their members and managers consistently search for ways to help the employees reach their full potential, whether it be through soft skill training such as leadership and ethics or thorough technical training. SEK has other workplace policies and programs that are critical to the success of its employees.
Angela Quigley, a manager at SEK, gave this testimonial: "SEK was my greatest employment blessing at a critical time in my life. SEK allows you to mold your public accounting career to your desires (within reason, of course). The partners want their employees to succeed and will do anything in their power to help you reach whatever goals you set."
Special thanks to this year's Chamber Awards Breakfast sponsors:
Grand Sponsor: M&T Bank
ATHENA Leadership Award Sponsors: F&M Trust, Jennings Chevrolet, Buick, GMC
Table Sponsors: ACNB Bank, Boyer & Ritter, LLC, Brechbill & Helman Construction Co., Inc., F&M Trust, Herbert, Rowland & Grubic, Inc., Keystone Health, LCSi Lehman Construction Services, Inc., Menno Haven, Orrstown Bank, Patriot Federal Credit Union, SEK, CPAs & Advisors, WellSpan Health – Formerly Summit Health, Wilson College
Patron Sponsors: BWise Manufacturing, LLC, Cumberland Valley Dental Care, Corning Credit Union, Decorating Den Interiors, GDC IT Solutions, Ghost Writer, Penn State Mont Alto, Penn National Insurance, Quincy Village, SpiriTrust Lutheran, Shippensburg University, Triad Engineering, Inc.