Chamber Comes Uncorked – Wonka Style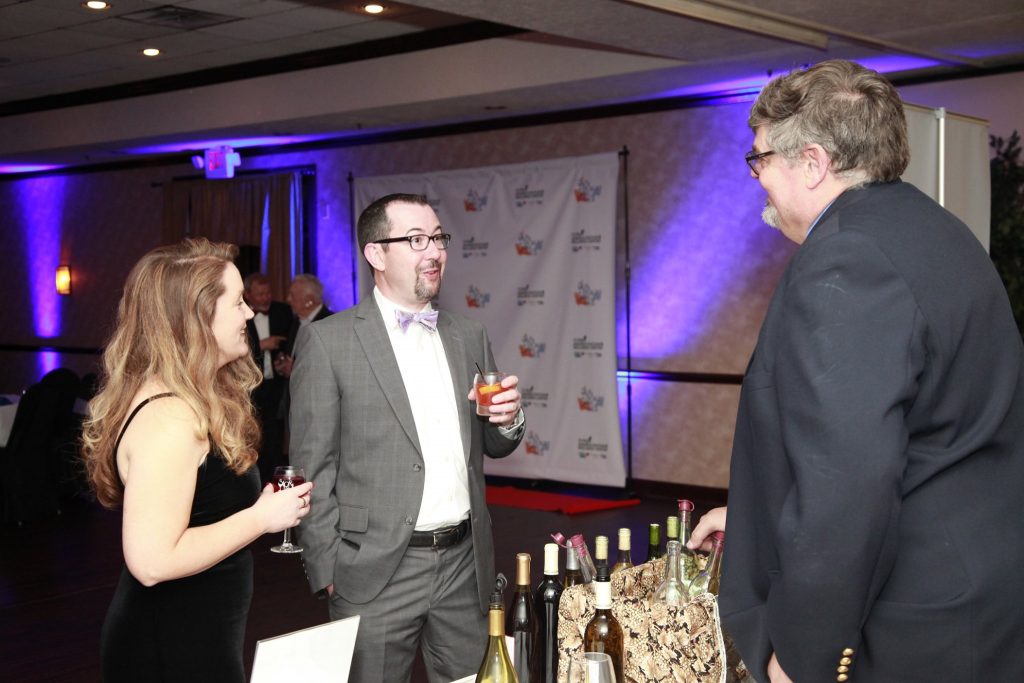 Join the Chambersburg Chamber for a new fundraising experience; Chamber Uncorked will feature an exciting theme with games of chance, delicious food, wine and elaborate decorations designed to make the night unforgettable.
More than 100 guests are expected to attend this semi-formal evening on April 4 at 6 p.m. at The Orchards. The theme, Willy Wonka & the Chocolate Factory (1971), will include Wonky games of chance, unique Willy Wonka décor, interactive photo ops, live and silent auctions, music, networking and more.
The evening will feature wines from Adams County Winery and Jan Zell Wines at the Fizzy Lifting Drink Station, heavy hors d'oeuvres crafted by Chef Michael Kalathas (inspired by Violet's three-course dinner gum) and a Chocolate River Fountain. To top off the evening, guests will enjoy a seated wine and dessert pairing. In the words of Willy Wonka, "There'll be so much time and so little to do…wait a minute, strike that, reverse it!"
"This event is an opportunity for our members and community residents to have some fun while supporting the local business community," said Steve Christian, president of the Chambersburg Chamber. "We appreciate the donations and sponsorships from area businesses and look forward to having more community members join us this year."
Exclusive sponsor opportunities are available for businesses seeking to increase their exposure to community and business leaders. They include the Grand Sponsor for $3,500, Wine Sponsor for $2,000 and Live Auction Sponsor for $1,000. Other sponsorships include Benefactor for $500 and Patron for $225; each include preferred seating at the event.
Tickets are $70/person and are on sale now through April 1. The dress is semi-formal, and guests are encouraged to dress as characters from Willy Wonka if desired. Details about sponsor benefits are available at Chambersburg.org/Events or contact Angela Schaeffer at 717-264-7101 ext. 208 or aschaeffer@chambersburg.org.
Donations are also sought for the live and silent auctions. Donors will receive several benefits depending on the donation value, among them recognition in the auction catalog, inclusion in event promotions and premium social media advertising. Businesses interested in donating items may contact Laiton Suders at lsuders@chambersburg.org or call 717-264-7101 ext. 214.
From the wonky decorations to gigantic lollipops, you'll feel you've stepped straight into Wonka's workshop! Remember, "a little nonsense, now and then, is relished by the wisest men."  Join the Chamber as we celebrate businesses in the greater Chambersburg area at this premier event unlike any other in the region!
The Greater Chambersburg Chamber of Commerce is a 501(c)6 nonprofit organization dedicated to helping businesses prosper and enhancing the quality of life in the Chambersburg area. Established in 1911, the Chamber is the largest business advocacy organization in Franklin County.