Community Invited for Northern Ireland Excursion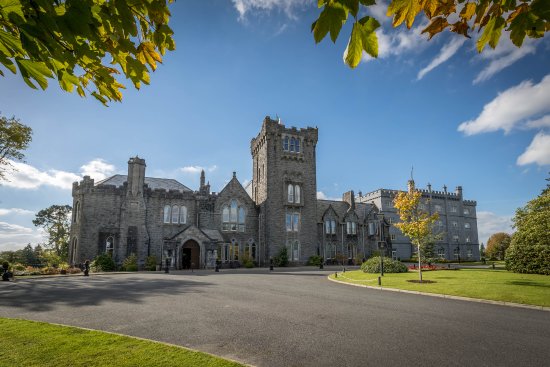 Community residents are invited to join 26 local travelers as they venture to Northern Ireland in May to discover castles, sample Irish cuisine and explore picturesque landscapes with the Chamber Travel Club.
The eight-day excursion from May 1-9, 2020 is hosted by the Greater Chambersburg Chamber of Commerce as part of the Chamber Travel Club and coordinated by Cathy Folmar and Rhonda DeShong of Dream Vacations. The trip will include 12 meals and is an estimated $3,200/person double occupancy including airfare. An information session is planned for Thursday, January 23 at 5:30 p.m. for booked guests and un-booked guests interested in learning more should arrive by 6:30 p.m.
"We are excited to lead the Chamber Travel Club on another phenomenal journey to Ireland," said Folmar, franchise owner of Dream Vacations. "Traveling with the Club gives you the excitement of a great adventure along with the peace of mind knowing you'll be guided by an expert and accompanied by people from home."
The group, comprised of local residents from Franklin County, will enjoy unique experiences including the Connemara Marble Factory, Aran Islands and Trione Wollen Mills. Besides five nights of first-class hotels, the group will enjoy a special two-night stay at Kilronan Castle. Other excursions will include seeing St. Patrick's Centre, Titanic Belfast, Glenveagh Castle and more!
"This is our second trip back to Ireland and it's going to be an unforgettable journey for the Club," said Lark Kennedy, communications manager at the Chambersburg Chamber. "Each trip is organized by a different Chamber member travel agency with a portion of the proceeds supporting the Chambersburg Chamber. The Club has been immensely successful with more than 136 travelers since 2017."
Launched in 2017, the Chamber Travel Club supports the Chamber membership while providing an unforgettable experience for community members to take advantage of. More than 135 local travelers of all ages and backgrounds have journeyed internationally with the group.
For more details about the Travel Club, visit Chambersburg.org/TravelClub or call 717-264-7101. Other upcoming trips include Greece from November 8-17, 2020 and a South African Safari February 25 to March 10, 2021. For more information about these trips or to join the Chamber Travel Club communications, please contact Lark at 717-264-7101 ext. 206 or lkennedy@chambersburg.org.