Volunteer Spotlight: Helen Krietz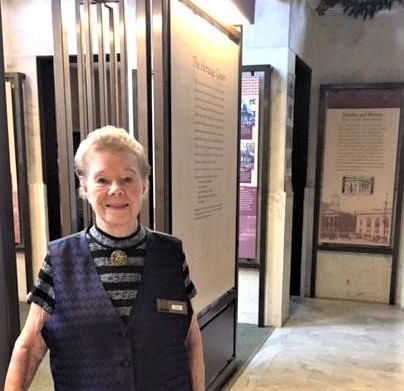 At the Chamber, volunteers come in many forms: from committee members and ambassadors to those who volunteer in the Heritage Center. With Thanksgiving rapidly approaching, we're giving thanks for one of the volunteers who helps at the Heritage Center and in the Chamber offices, Helen Krietz. Helen has been volunteering for 13 years. She loves when visitors come into the Heritage Center and is always looking for ways to help around the office; one of her favorite tasks is preparing the monthly Outlook newsletter mailings for Chamber members.
Helen was born in 1923, and she has more energy than someone half her age. Helen loves a challenge, and one of her hobbies is extreme sports. She decided to go skydiving for the first time with her granddaughters on her 90th birthday, and loved it. Only recently has she started to tackle activities like zip lining, parasailing, surfing and more because she enjoys them so much.
When asked about her activities, Helen simply says, "If you feel like going skydiving or doing any extreme sport, and you're in good health, then go for it. I just went and did it."
Thank you, Helen, for all that you do!