State Legislators Attend 4th Annual Legislative Breakfast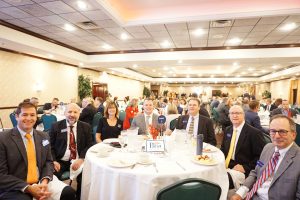 A panel of six state legislators gathered to discuss issues regarding workforce development, education, minimum wage laws and more with the business community at the 4th Annual Franklin County Legislative Breakfast held recently in Chambersburg, Pa.
Hosted by the five chambers of commerce on behalf of the Franklin County Government Affairs Committee, more than 190 people attended the event to hear from Senator Doug Mastriano, Senator Judy Ward, Representative Johnathan Hershey, Representative Rob Kauffman, Representative Paul Schemel and Representative Jesse Topper.
"The annual Legislative Breakfast is an important and highly anticipated community event; we are honored to provide our Chamber members with the opportunity to interact with officials who are directly involved in shaping our business community," said Stephen Christian, president of the Greater Chambersburg Chamber of Commerce.
Moderated by Gene Barr, president and chief executive officer of the Pennsylvania Chamber of Business & Industry, the state legislators were encouraged to discuss the focus of their agendas and opinions on recent legislation. Areas addressed included the state judicial system, the "Regional Greenhouse Gas Initiative," property taxes and recreational marijuana.
Barr also shared the primary barriers to the growth of our local workforce, as identified by the Pennsylvania Chamber of Business & Industry. Factors included child care, transportation issues and the difficulty of finding employment for those who have criminal records. In addition to these issues, the legislators pointed out contributing factors affecting our workforce such as marijuana use and the potential consequences of a raised minimum wage. Representative Jesse Topper discussed the workforce in light of education, bringing up charter schools and the importance of preparing the next generation.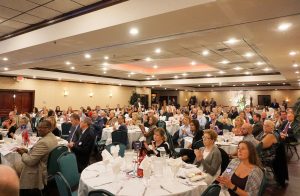 Attendees also participated in a Q&A with the panelists to talk about local issues such as environmental regulations that affect businesses. On the same topic, Senator Mastriano and Representative Schemel highlighted energy and natural gas as one of Pennsylvania's greatest assets, encouraging the use of this resource for greater initiatives rather than an increase in regulatory limitations.
Special thanks to Grand Sponsor Patriot Federal Credit Union, the members of the Franklin County Government Affairs Committee as well as the representatives from the Greater Chambersburg Chamber of Commerce, Greater Waynesboro Chamber of Commerce, Greencastle-Antrim Chamber of Commerce, Shippensburg Area Chamber of Commerce and Tuscarora Area Chamber of Commerce. For more information about the public policy positions of the Franklin County Government Affairs Committee, please visit Chambersburg.org/PublicPolicyPositions.