F&M Trust to Relocate Corporate Headquarters, Operations Center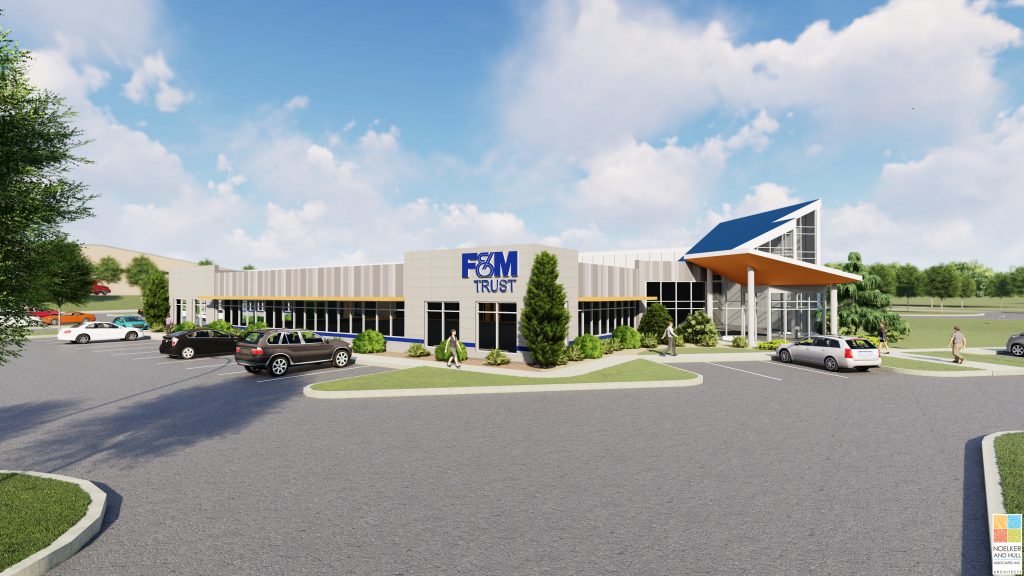 F&M Trust today announced plans to relocate their corporate headquarters and operations center to a larger, state-of-the-art building situated in both the Borough of Chambersburg and Guilford Township, three miles from the bank's current location.
The bank is purchasing the former Danfoss manufacturing facility for $7 million from CFDC, LLC, an entity jointly owned by the Franklin County Area Development Corp. (FCADC) and Chambersburg Area Development Corp. (CADC). The 67,000 square-foot Gold LEED building, constructed in 2009 is located at 1500 Nitterhouse Drive, Chambersburg, on an 11-acre parcel.
The move is expected to take place in late 2020 after the bank has completed renovations. The one-story building will house roughly 145 employees with room to add employees as the bank grows.
"F&M Trust's story began in 1906 in downtown Chambersburg, and in many ways it is bittersweet to move part of our team out of the downtown when there are so many new and exciting things happening. Yet, as the bank continues to grow, we need more space in order to continue to bring high-quality service to our customers. We are very happy that we are able to maintain our presence in Chambersburg, Guilford Township and Franklin County as we are the only bank headquartered in this area," said Timothy G. Henry, president and CEO of F&M Trust. "With this move and renovation, F&M Trust reaffirms its commitment to supporting the vitality of Chambersburg and Franklin County and positions itself for future growth as an independent community bank."
To prepare for its future move, F&M Trust is selling its 41,000 square-foot corporate headquarters located at 20 South Main Street, for $3.3 million to CFDC.
"This represents another $3.3 million investment in the revitalization of downtown Chambersburg. It's a win, win, win for everyone. It's a great win for the community. It's a win for F&M Trust, and it's a win for us," said L. Michael Ross, president of FCADC.
Stephen Christian, president and executive director of CADC and the Greater Chambersburg Chamber of Commerce added: "We were in a unique position to be part of the solution by purchasing the bank's existing real estate in downtown Chambersburg. We're excited to support F&M Trust's continuing success and expansion. No other financial institution is more thoroughly woven into the fabric of Chambersburg and Franklin County's community than F&M Trust."
Neither FCADC nor CADC plan to relocate their operations to the building. Rather, they intend to lease office space to other tenants.
F&M Trust will maintain its current retail community office in downtown Chambersburg by leasing back the first floor of the Memorial Square office from CFDC. Terms of the lease have not yet been finalized.
Both sales agreements are anticipated to close in the fourth quarter of this year.
About Franklin County Area Development Corporation
Established in 1986, FCADC formulates, implements and promotes a comprehensive countywide economic development strategy. The corporation strives to create an atmosphere that nourishes planned growth and family sustainable employment opportunities. Since its establishment, FCADC has successfully facilitated more than 760 projects throughout Franklin County, resulting in more than $2.2 billion in capital expenditures and creating/retaining more than 50,000 jobs.
About Chambersburg Area Development Corporation
Founded in 1960, CADC aims to improve the economic health and quality of life of the Chambersburg Area by bringing major employers to the area. CADC owns and operates an extensive commercial and industrial real-estate portfolio providing quality building solutions for dozens of businesses in Chambersburg and Franklin County. CADC is an affiliate of the Greater Chambersburg Chamber of Commerce, and is linked to the creation of more than 2,800 jobs and over $3 million in local payroll and property tax revenues annually.
About F&M Trust
A subsidiary of Franklin Financial Services Corporation, F&M Trust is an independent community bank headquartered in Chambersburg. With approximately $1.3 billion in assets, F&M Trust has 22 community offices in Franklin, Cumberland, Fulton and Huntingdon counties.
Please visit fmtrust.bank for more information.