Scoop-a-Palooza Reaches Record Attendance
Scoop-a-Palooza witnessed a record-breaking crowd of 1,600 people on Saturday during the all-you-can-eat ice cream festival at Chambersburg Area Senior High School (CASHS).
Festival goers sampled delicious ice cream from local vendors and voted for their favorites. Ice cream was donated by Hoover's Grill & Ice Cream, Meadows Frozen Custard of Chambersburg, Milton Hershey School – Spartan Ice Cream, Rita's Italian Ice & Frozen Custard, Trickling Springs Creamery and Windy Knoll Farm Market & Creamery.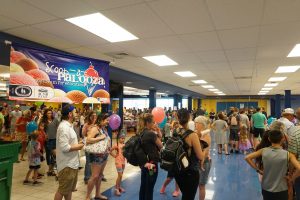 Scoop-a-Palooza, sponsored by ACNB Bank, is an ice cream lover's dream on a hot July day. The event is the Greater Chambersburg Chamber Foundation's signature fundraiser and raises money for their educational programming in Franklin County.
"We were thrilled to have so many members of the community join us for a wonderful time at Scoop-a-Palooza," said Virginia Harriger, executive director of the Greater Chambersburg Chamber Foundation. "We'd like to thank our vendors, sponsors and everyone who made this event possible. It's such a privilege to host people of all ages having tons of fun and, best of all, tons of ice cream!"
Contest Results:
Windy Knoll took the top prize, the Golden Scoop Award, Trickling Springs was the runner-up and Milton Hershey was the second runner-up.
Trickling Springs received first place in the Favorite Vanilla category with Indonesian Vanilla Bean. Windy Knoll took second and Milton Hershey took third.
The Triple Chocolate Earthquake made by Windy Knoll took first place in the Favorite Chocolate category. Trickling Springs took second and Milton Hershey received third for their Malted Memories Chocolate.
Windy Knoll's Blueberry Cheesecake won first in the Favorite Fruit category followed by Trickling Springs' Blueberry and Rita's Mango Ice.
Peanut Butter Overload made by Windy Knoll was the top choice in the Most Unique category followed by Milton Hershey's Irish Potato flavor and Trickling Springs' Toasted Coconut Almond.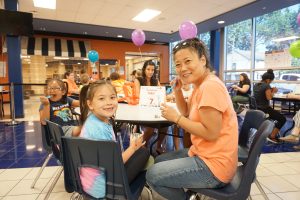 The kids' choice went to Windy Knoll for their Cotton Candy flavor, Peanut Butter Overload took second and Triple Chocolate Earthquake took third.
Special thanks to Scoop-a-Palooza sponsors: 3 Scoop Sponsor ACNB Bank; Celebrity Sundae Sponsor Volvo Construction Equipment; Kids' Area Sponsor Orrstown Bank; 2 Scoop Sponsors Corning Credit Union, Chick-fil-A, F&M Trust, Patriot Federal Credit Union, Starr Insurance and Superior Floorcoverings & Kitchens; 1 Scoop Sponsors DCB Law, Chambersburg Noontime Lions and Manitowoc Cranes; Baby Scoop Sponsors Barra Orthodontics, PeopleReady, PDM Insurance Agency, SEK, CPAs & Advisors.
Scoop-a-Palooza is part of ChambersFest, which continues through July 20. For a full schedule of events, visitChambersburg.org/ChambersFest.