Leadership Franklin County Recognizes 23 High School Sophomores for Leadership Training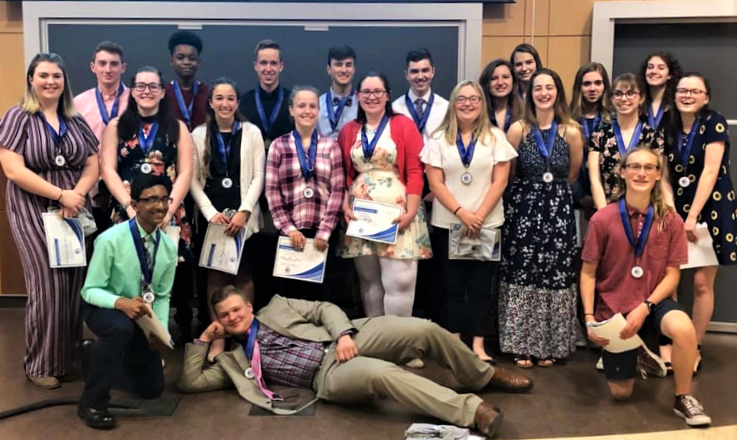 A group of twenty-three high school sophomores graduated from a year-long leadership training program on Tuesday surrounded by friends and family at Wilson College.
The tenth anniversary class of Leadership Franklin County (LFC) Youth graduated with the tools to help them emerge as leaders in their schools, communities and personal lives. At the ceremony, the sophomores from nine schools in Franklin County celebrated their accomplishments and reviewed their community service projects that were focused on Healthy Communities Partnership (HCP) of Greater Franklin County's "Be Kind" initiative.
"This was a class full of wonderful students who invested themselves wholeheartedly into the program," said Ginny Harriger, executive director of the Greater Chambersburg Chamber Foundation. "Our focus on kindness throughout this year's curriculum allowed the students to explore how they can make a difference in the lives of those around them, both personally and professionally."
Endorsed by all school districts in the county, LFC Youth aims to create a community of young people who are actively engaged in responsible, ethical and effective leadership. The curriculum is built around team-building exercises, sessions on leadership, communication, ethics and personal accountability, community awareness, time management, diversity and goal setting.
Thanks to a generous sponsorship from Wilson College, the program is offered at no cost to the students. The youth leadership sessions were held one school day each month from May through April. Class members were from public and private schools including Shippensburg Area High School, Waynesboro Area High School, James Buchanan High School, Shalom Christian Academy, Greencastle-Antrim High School, Fannett-Metal High School, Chambersburg Area Senior High School, Chambersburg Career Magnet School and Cumberland Valley Christian School.
The LFC Youth graduates were: Taylor Appenzellar, Sydney Bartley, Andrea Basta, Levi Bingaman, Tori Brookens, Kyle Buchheister, Jacki Custer, Lydia Daniels, Autumn Derstine, Stephen Fugate, Karlyn Hazelton, Alexandra Hott, Andrew Jackson, Gabriel Miller, Jessie Miller, Sarah Mozingo, Lauren Ramsey, Laranda Rowland, Ella Snyder, Lidia Stouffer, Naveen Thomas Ninan, Brent Welty and Ryan Winters.
Leadership Franklin County is an initiative of the Greater Chambersburg Chamber Foundation, a 501(c)3 organization, and an affiliate of the Greater Chambersburg Chamber of Commerce. It is dedicated to advancing the free enterprise system through education and by promoting citizenship and leadership. Learn more at Chambersburg.org/ChamberFoundation.