Chamber Recognizes Businesses and Community Members for Achievements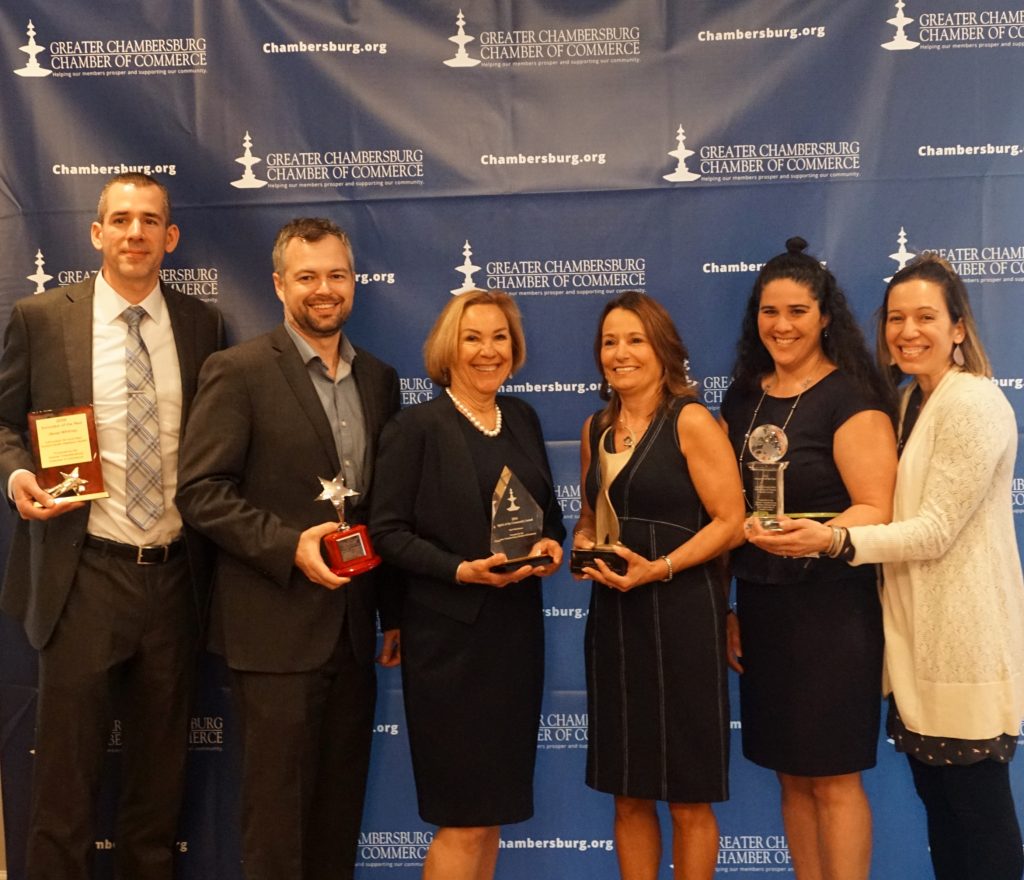 The Chambersburg Chamber honored 11 of its members for their outstanding achievements with more than 220 people in attendance at the Annual Awards Breakfast sponsored by M&T Bank!
"We are proud to honor our business and community leaders for their exceptional contributions this past year," said Stephen Christian, president of the Chamber. "We were blown away by the nearly $26 million of investment in the Chambersburg area and honored to award our members for their contributions that have served to improve the quality of life in our community."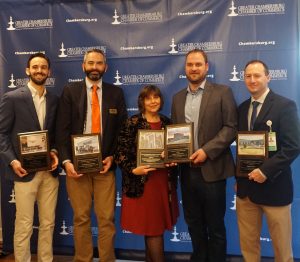 Karen Johnston, the executive director of the Healthy Communities Partnership (HCP) of Greater Franklin County, accepted the international ATHENA Leadership Award to a standing ovation at the Chambersburg Country Club. The award honors an individual who exemplifies professional, community and personal leadership as well as someone who actively assists women in reaching their full leadership potential and/or personal and professional advancement. The ATHENA award is sponsored locally by F&M Trust and Jennings Chevrolet, Buick, GMC.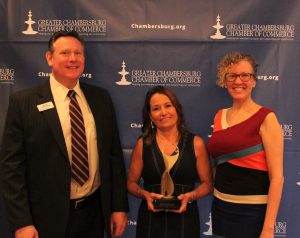 Over the past nine years, Karen has successfully led HCP in drastic growth and expansion. She has prepared many successful grant applications, and most recently led the development of a federally funded Drug-Free Communities Support Program. This will bring $125,000 each year over the next five years to a local coalition developed by HCP to decrease substance abuse and risk factors among Chambersburg youth.
Karen is valued by many for her leadership and service in our community - through her civic involvement on the boards of Keystone Health, the Greater Chambersburg Chamber Foundation, chairing the Leadership Franklin County Youth program, chairing the Nutrition Task Force of Healthy Franklin County, chairing the Prevention Workgroup of the Overdose Task Force, membership of the Healthy Franklin County steering committee and membership of the Franklin County Human Services Block Grant committee.
Karen has also sought to offer leadership opportunities to young women through her work in the youth leadership program established through the Chamber Foundation. Additionally, Karen gives back to the community through her dedication to leadership programs for youth and especially young girls in our county. This includes the Go Girls Go! Program that has more than 150 girls registered this year.
Karen frequently allows her staff the opportunity to develop and grow their leadership skills by sharing her gifts and strengths as well as helping them pursue their passions. She strongly believes in working toward a stronger, more prosperous community and continues to actively assist women in achieving their full leadership potential. For all these reasons, we are pleased to award Karen the 2019 ATHENA Leadership Award.
Also presented during the ceremony were the following awards:
Property Improvement – up to $150,000:
Penn National Golf Course Community redesigned its Clubhouse and added a beautiful addition called the Black Oak Bar. After acquiring a brewer's license with the Altland House of Abbottstown, they had three months to transform their dining room/snack bar into a well-designed bar and restaurant for the 2018 season. The Clubhouse underwent significant construction including new flooring, refreshed interior design, upgrades to the main entrance and conference room as well as additional dining space. The Black Oak bar now serves locally crafted ales and spirits in an elegant setting for golfers and the greater community. Chamber members involved included Dick's Cabinetry & Flooring and Essis & Sons – Carpet One.
Property Improvement – up to $150,000 Honorable Mention:
Klenzing's Garden Center was awarded an honorable mention for their impressive renovation of 2922 Molly Pitcher Highway. The owners added a third greenhouse with open sides and a paved walkway, which expanded its services to include a floral venue. Chamber members associated with this project included Nitterhouse Masonry and Hardware, Chambersburg Rental and Conner Electrical Company, Inc.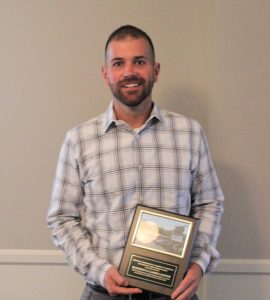 Property Improvement – $150,000 - $500,000:
SunnyHill Properties was honored for their exceptional renovations to 405 Wayne Ave., which is the home of The Block Fitness Studio. The project converted a previous bank building into a state-of-the-art fitness studio. They opened up the lobby area, installed a new HVAC system, installed modern windows and added a themed smart lighting setup. Chamber members involved in the project included David Black Associates, Inc., The Eagle Construction Company, Fleagle's Painting LLC and Baer's Sign Service, LLC.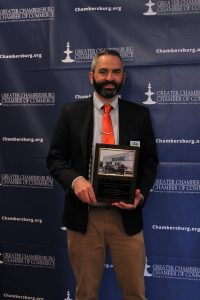 Property Improvement – $1M - $5M
Grant Street Loft was recognized for their outstanding transformation of the Jennings car dealership into a commercial kitchen and modern event center at 227 Grant St. The owners, Leo and Anne Schoenhofen, built a state-of-the-art commercial kitchen on the first floor with a warehouse, walk-in coolers, breakroom, bathrooms and several offices. All of this would support The Butcher Shoppe's growth of the Micro Markets in the area. The second level of Grant Street Loft offers a unique, industrial style venue to host events for up to 200 people. The space also offers a beautiful rooftop patio with impressive views of Chambersburg for guests. Chamber members that contributed to the project were Brandale, LLC., Stouffer Mechanical Contractors, Frank B. Lesher Electrical, Ralph E. Tolbert Masonry, Inc., Nitterhouse Masonry & Hardware Supply, Art Sign Company of Chambersburg, LLC, GDC IT Solutions, Fayetteville Contractors, Inc. and F&M Trust.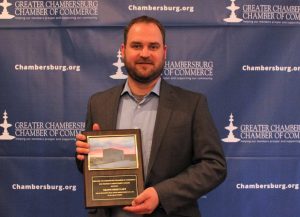 Property Improvement – over $5M
Menno Haven received a Property Improvement award in the over $5 million project category. They were recognized for their impressive construction of the Rehabilitation Center that is part of their five-year strategic plan known as Project GENESIS. It features 44 private rooms known as suites, a state-of-the-art therapy gym, a beautiful therapeutic courtyard, a salon & spa and a restaurant-style café. There is also an on-site Summit Health Clinic that serves Menno Haven residents and the public. The building itself is built to WELL Building standards to promote the physical, emotional and spiritual health of guests. This construction effort saw over 40 percent of sub-contracts awarded to Franklin County firms including F&M Trust and Dennis E. Black Engineering, Inc. The Rehabilitation Center will employ over 70 employees at full capacity.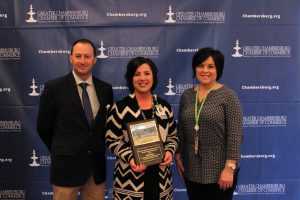 Property Improvement – Historic Preservation
Franklin County Visitors Bureau was awarded for its repurposing of an 1865 bank building into the 11/30 Visitors Center. Located at 15 South Main St., much of the building was preserved as it received new wiring, an elevator, improved lighting, handicap accessible entrances and a more open floor plan for an event venue. The 11/30 Visitors Center includes exhibits about Franklin County's history, exciting things to do, attractions, dining options and more. The second floor also has a beautiful modern event space that overlooks Memorial Square. It can host up to 200 people. Chamber members involved with the project included R.A. Hill Inc., Solinkit, Noelker and Hull Associates, Inc., Franklin Advisory, Chambersburg Area Development Corp., Community Development Corp. of Franklin County, Franklin County Area Development Corp., Borough of Chambersburg and F&M Trust.
Environmental Sustainability Award:  David H. Martin Excavating, Inc.
Presented by Wilson College and the Greater Chambersburg Chamber of Commerce
The Environmental Sustainability Award recognizes a business or nonprofit organization whose operations, processes or products reflect adherence to the principles of ethical, economic and environmental sustainability.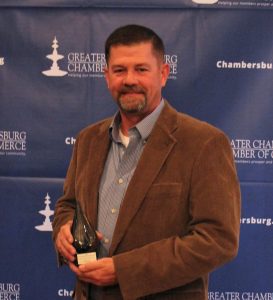 David H. Martin Excavating, Inc. received recognition for their continued pursuit of excellence in the field of environmental protection for water and soil conservation. Their environmental division works diligently with vendors and landscape engineers to provide and reintroduce native plant species into their projects that will return our region to its natural bio-diversity. The emplacement of designed bio-retention supports return water to our aquafers rather than holding it in detention ponds or diverting to storm drains that damage the Chesapeake Bay watershed. In 2018 they temporarily seeded over 64 acres of exposed topsoil, established over nine miles of silt fencing and emplaced 39 acres of erosion control matting on multiple commercial and residential projects.
Innovator of the Year:  Jesse Whitney of Summit Health now part of WellSpan Health
This award recognizes an entrepreneur, business owner or key manager who has succeeded through innovation and risk-taking in introducing new products or services, or growing an existing product line through a unique approach.
Jesse Whitney of the Information Services Dept. at Summit Health, demonstrated his innovation by bringing a life-saving technology to Franklin County. This technology utilizes an innovative system that connects caregivers in a hospital to emergency air medical transport from Life Net 81 by pushing a button to immediately dispatch a helicopter. Before the button system, details needed to be worked out between clinical staff and the flight crew before the helicopter headed to the hospital. Now, by pushing the button the helicopter is dispatched to the hospital and can typically be on location within 10 minutes. It is bringing life-saving care to the fingertips of caregivers in Franklin County and saving time when it matters most.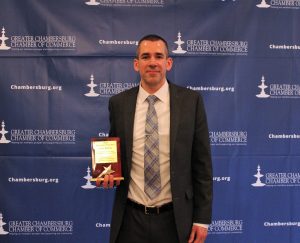 Nonprofit of the Year:  Healthy Communities Partnership of Greater Franklin County
Presented by the Greater Chambersburg Chamber of Commerce and United Way of Franklin County
The Nonprofit of the Year award recognizes a nonprofit organization whose innovations address areas of need to improve the prosperity of Franklin County.
Healthy Communities Partnership (HCP) of Greater Franklin County was recognized as the Nonprofit of the Year for its quality programs and services that have improved the health and wellness of the communities it serves. HCP has implemented many successful programs aimed at increasing and sustaining healthy lifestyles and habits for local residents. Two of these programs include "Go Girls Go!" and Power of Produce (POP). "Go Girls Go!" engages with elementary and early middle school age girls with social bonding, increased self esteem, enhanced mental health and health education. It also has more than 50 local women serve as mentors to the girls. The POP program gives children ages three to 12 tokens to spend at the North Square Farmers Market from May to October. This encourages the children and their families to make more healthy choices. More than 650 children participated in the program last year. HCP also serves as a collaborative partner with other entities such as area school districts, United Way of Franklin County, Summit Health, Keystone Health, Chambersburg YMCA and others. Their staff also serves on many boards and service clubs such as Mental Health Task Force, Leadership Franklin County Youth, Healthy Franklin County and others. These programs and partnerships have branded HCP as a committed community partner that is dedicated to helping the residents of Franklin County prosper.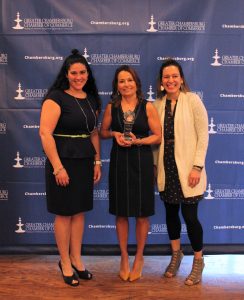 Young Professional of the Year:  Blake Truman
Presented by the Greater Chambersburg Chamber of Commerce and 11/30 Network
The purpose of this award is to highlight and promote the talent of the next generation of leaders in our community. The Young Professional of the Year award recognizes an individual who is pursuing excellence in their career and has made valuable contributions to the community through civic engagement.
Blake Truman began his career with VerStandig Media 15 years ago as an entry level sales associate. In a short time, he moved into management and soon became vice-president and general manager. Blake strives to be innovative in his pursuit to keep VerStandig a market leader and set the bar for the industry. In his brief years of management, he has led the company to many record-breaking achievements. Over the past 15 years, Blake has dedicated his time to many organizations including, but not limited to: the Greater Chambersburg Chamber of Commerce, Rotary Club of Waynesboro, Rotary Club of Hagerstown, Shepherd University's Alumni Board, Shepherd University's Advisory Council and the 11/30 Network. He has created and supported many community events to benefit local and nationwide non-profit organizations. With the support of VerStandig Media, he has played the lead role in organizing and raising donations for the following non-profits and causes: MS Walk of Hagerstown, Walk with Tori – Scleroderma Walk, Franklin County Home Run Derby, United Way of Franklin County, United Way of Washington County, ChambersFest, Girls Inc., Veteran programs and cancer-related fundraisers. He has played a significant role in giving back to the community not only through his career, but through donating countless hours of service, personal time and professional knowledge that have enabled the greater Chambersburg area to thrive.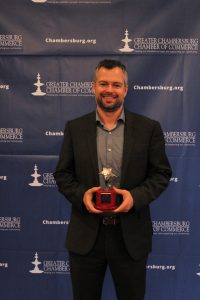 Spirit of the Community: Patti Nitterhouse
The purpose of this award is to recognize an outstanding individual who has demonstrated a tireless and unselfish commitment to improving the quality of life in Chambersburg beyond the role of their career.
Patti Nitterhouse rises to the occasion every time the greater community is in need.  She serves on several boards including the South Mountain Partnership and the Franklin County Visitors Bureau. She was the driving force for the TK Nitterhouse & Mary Steel nursing scholarship and helps facilitate and host community Healthy Eating Adventures. From 1999 to 2016 Patti has hosted an Annual Penn State Mont Alto Nursing Scholarship dinner where they raised over $250,000 and sent over 140 local students through the nursing program to keep young people locally engaged and employed. Patti is also involved with the Mercersburg Area Council for Wellness and once a year opens the Penn National Clubhouse to host a Healthy Eating Adventure at Penn National. She and her husband Dennis Zimmerman recently donated a 16-acre parcel of land at Penn National to Leg Up Farm - a school/therapy center for special needs children. Her contributions have helped many people as she continues to share her knowledge, enthusiasm and energy to lend a helping hand.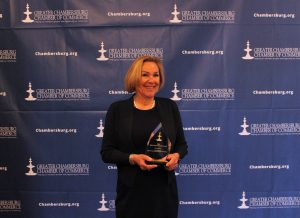 Special thanks to this year's Annual Awards Breakfast sponsors:
Grand Sponsor: M&T Bank
ATHENA Leadership Award Sponsors: F&M Trust, Jennings Chevrolet, Buick, GMC
Table Sponsors: ACNB Bank, The Butcher Shoppe & Grant Street Loft, Brechbill & Helman Construction Company, Inc., David H. Martin Excavating, Inc., F&M Trust, Keystone Health, Menno Haven, Orrstown Bank, Patriot Federal Credit Union, Penn National Golf Course Community, SEK, CPAs & Advisors, Summit Health – now part of WellSpan Health sponsoring 3 tables, and Wilson College
Patron Sponsors: BWise Manufacturing, LLC, Decorating Den Interiors, Herbert, Rowland & Grubic, Inc., Johnnie's Restaurant & Hotel Service, Inc.,
​LCSi Lehman Construction Services, Inc., Penn National Insurance, ​Penn State Mont Alto, Quincy Village, SpiriTrust Lutheran, Triad Engineering, Inc.