Giving Back: F&M Trust Donates to Local Education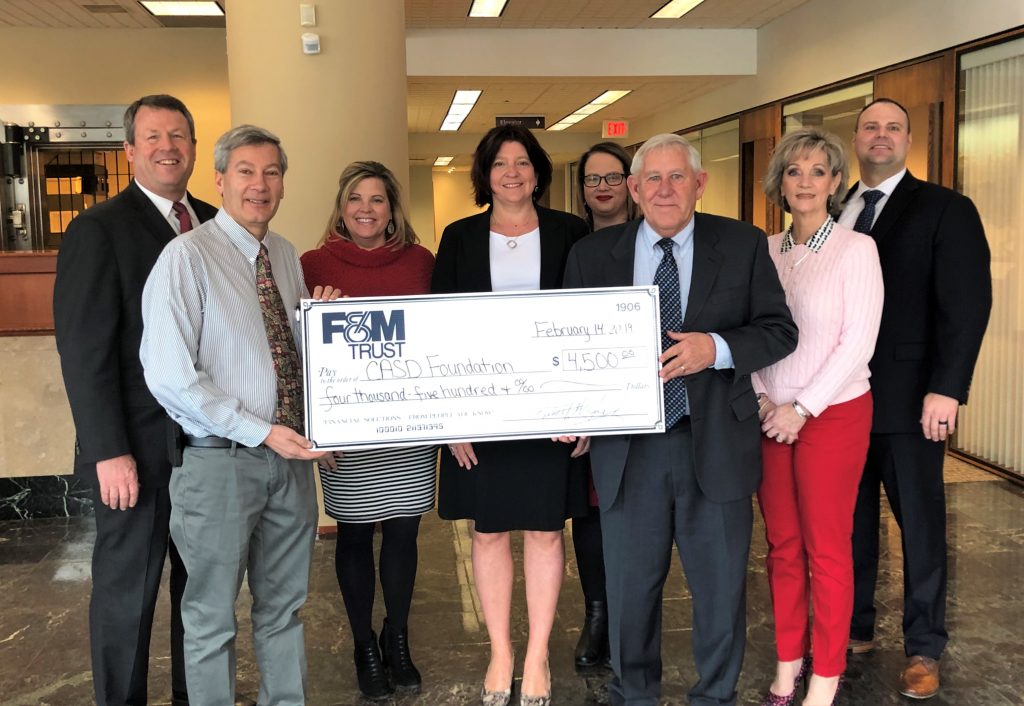 The Greater Chambersburg Chamber of Commerce is proud to highlight our local member businesses for their contributions to the community!
Recently, F&M Trust committed $4,500 to the Chambersburg Area School District (CASD) Foundation, as well as $5,000 to Shalom Christian Academy.
F&M Trust's donation to the CASD Foundation was given as part of the nonprofit's teacher grant program. Each year, the foundation administers grants to faculty, staff and administrators for innovative programs and equipment unique to a project or curriculum not funded in the regular district budget.
The grants support a broad range of projects, from those that focus on traditional academic subjects to others in the visual and performing arts and still others that promote multi-cultural and community learning experiences.
"F&M Trust values quality education and understands its importance in developing the next generation of leaders. The Chambersburg Area School District Foundation has a proven track record of improving the experience of teachers and students in Chambersburg. We're honored to work with them to support classroom needs in the community," said Tim Henry, president and CEO of F&M Trust. Since its inception in 1991, the Chambersburg Area School District Foundation has provided the students and teachers of the district with more than $1.5 million in grants and scholarships
"The Chambersburg Area School District Foundation is so very grateful to F&M Trust for their financial support of our teacher grant program. Our foundation provides teachers with the resources to develop and implement innovative instructional strategies to engage students in 21st century learning that are not otherwise covered by the school district budget. We thank F&M for their partnership as we work together to ensure our students are critical thinkers, innovators, career-ready and empowered," said Angela Lynch, executive director of the Chambersburg Area School District Foundation.
F&M Trust also donated $5,000 to the Shalom Christian Academy – a private school located in Chambersburg. The funds will provide pre-kindergarten scholarships to the academy's Growing Tree Preschool.
The donation is part of the bank's participation in Pennsylvania's Education Improvement Tax Credit (EITC) program. The EITC provides tax credits to eligible businesses when they contribute to scholarship organizations, educational improvement organizations or pre-kindergarten scholarship organizations. The credits allow companies to reinvest that money back into their local communities.
Please visit fmtrust.bank for more information.
Thank you to F&M Trust for their contribution to community education! If your business has recently given back to the greater Chambersburg area in some way, send press releases, photos and other information to Laiton Suders at lsuders@chambersburg.org.