Advertising with the Chamber
The Outlook is printed more than 5,000 times per year and reaches approx. 2,300 representatives from member businesses each month. We're here to help our members prosper and make their lives easier - so let us advertise for you!
Our newly redesigned newsletter not only features excellent readability, but all printed advertisements are now in full color. The newsletter will also appear in full color on our website, where we're now able to link your advertisement directly to your website, allowing readers easy access to your brand.
By advertising in The Outlook, you can gain exposure and drive your business to success! We reach:
2,300+ Individuals / Month
800+ Business / Month
1,700+ Contacts Receive Digitally / Week
5,400 Printed Copies / Year
Our advertising options feature your business in variously sized advertisements printed directly into the newsletter, as well as full page flyers widely visible in print and digitally. Available newsletter ads include: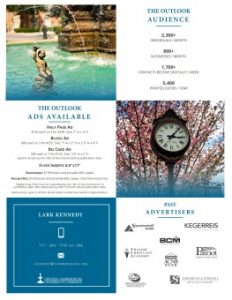 HALF PAGE AD
$150 each or 3 for $399. Size: 7" w x 4" h
BLOCK AD
$99 each or 3 for $255. Size: 7" w x 2" h or 3.5" w x 4" h
BIZ CARD AD
$50 each or 3 for $125. Size: 3.5" w x 2" h
Submit all ads by the 10th of the month before publication date.
FLYER INSERTS 8.5"X11"
Businesses: $195/insert and provide 600 copies
Nonprofits: $125/insert and provide 600 copies. One free insert/mo.
Click here to view the Chamber's advertising media kit.
Don't miss out on community news! Stay connected by subscribing to the Chamber's weekly e-newsletter, which is sent every Monday, and the Chamber's print newsletter, sent the first of every month.
Contact Lark Kennedy at lkennedy@chambersburg.org or Laiton Suders at lsuders@chambersburg.org for more information.