Menno Haven Unveils Rehabilitation Center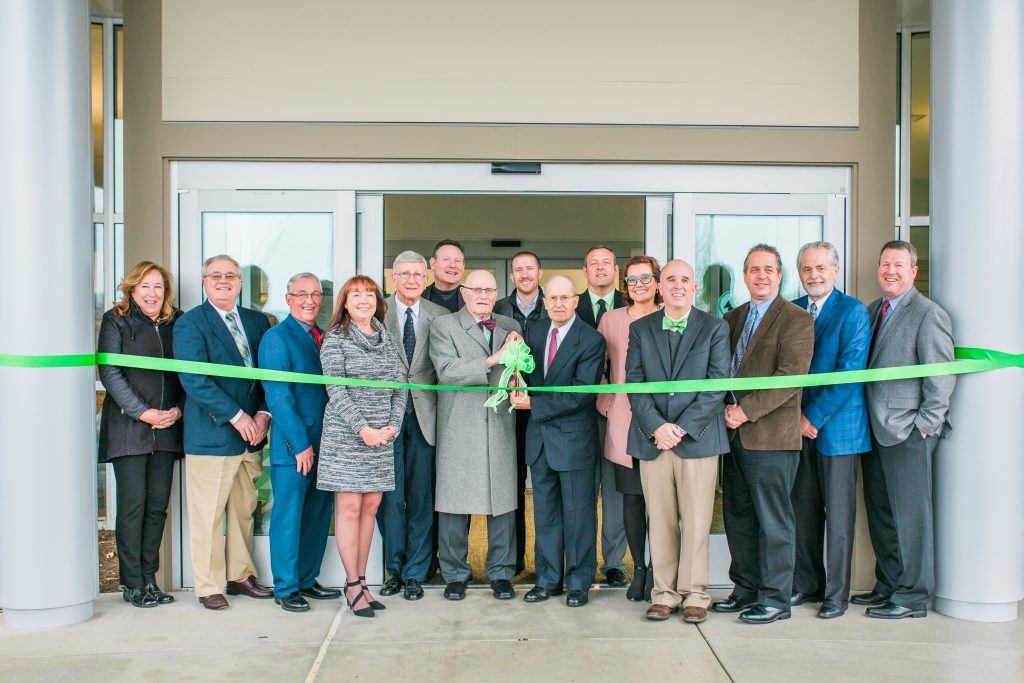 Menno Haven is excited to announce the near completion of the new Menno Haven Rehabilitation Center at 2055 Scotland Avenue. A public Ribbon Cutting Ceremony took place on Sunday, December 16, 1:30 PM with an open-house and tours until 4:00. Over 200 community members were in attendance for this monumental event.
The approximately $21 million project began construction in September of 2017.  "I am excited that the building will be completed on time, and on budget" says Menno Haven CEO, Hugh Davis.
The Ribbon Cutting Ceremony featured opening remarks made by Hugh Davis, CEO, guest speakers, and served as the launch of a Capital Campaign. The ribbon was symbolically cut by founding board members Charlie Diller and Charles Hunsecker. The building was open to tours after the ceremony. To learn more about the Rehabilitation Center, visit MennoHaven.org/Rehab.
Menno Haven expects to begin operating the building with patients in January after final regulatory inspections are completed.
Davis describes the new Rehabilitation Center as "unlike any in the region." "This building will allow us to better serve individuals who need short-term care. Whether that be someone recovering from a surgery, an illness or an accident, they will recover here and then return home."
Deanna Beins has been named the Administrator of the new Rehabilitation Center. "Our team is really eager to start serving guests in this wonderful building," says Beins. "We put a lot of thought into the design to provide the best recovery environment possible," she says.
Here are some further details:
The Center has 44 private rooms that Menno Haven calls "suites," each with a private bathroom.
Since we will be focusing on clinical outcomes for short term care, our patients will be referred to as "guests".
The state-of-the-art therapy gym has the newest technology to help aid in recovery.
The therapy gym overlooks a beautiful therapeutic courtyard which serves the dual purpose of providing outdoor gathering space and functions as an extension of the therapy gym. Walking paths of varying materials, textures, and inclines provide guests with passive therapy opportunities.
The building is filled with amenities such as a salon & spa and café.
There will be an on-site Summit Health Clinic that serves Menno Haven residents and the general public.
The building will employ around 80 team members. Some career opportunities are still available at MennoHaven.org/Careers
The building is built to WELL Building standards. Davis says, "From the moment you enter the front door you will see this place is different. WELL design incorporates research based elements intended to promote the physical, emotional, and spiritual health of guests." A few examples of elements included in the building to achieve this standard are UV lamps in the HVAC cooling coils to ensure the best air quality, whole-building water filters, abundant natural light and a light system designed to match circadian rhythms. Davis says, "To our knowledge, this is one of the first senior living projects built to WELL standards in the nation."
The Rehabilitation Center is part of Menno Haven's 5-year strategic plan known as Project GENESIS which will include replacing the original 1964 nursing home, a Resident Life Center, Memory Care Houses and new independent living cottages.
For more information, visit: MennoHaven.org
Or contact Leslie Ray, Communication Coordinator at leslie.ray@mennohaven.org