Executive Director of Greater Chambersburg Chamber Foundation Joins Chamber of Commerce Staff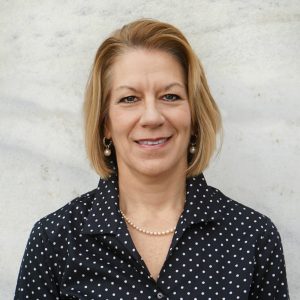 We are pleased to welcome Virginia Harriger as the newest member of the Chamber of Commerce team to lead the Greater Chambersburg Chamber Foundation.
Ginny joined the Chamber staff in early November as executive director of the Foundation and most recently served as the general manager of the Public Opinion for 22 years. During that time, she has accumulated a wealth of community knowledge as well as exceptional skills in leadership, relationship building, organizational management, revenue development and strategic planning.
"I am delighted to serve the community in this position and am eager to leverage my experience that will positively impact the progress and growth of the Foundation," said Virginia Harriger, executive director of the Foundation. "The organization is an important asset with its unique programs focused on leadership and workforce development. I look forward to the opportunity to invest in a 2019 strategic plan as well as a brand awareness campaign that will meet the core mission of the Foundation."
Ginny is a native of Lancaster County, Pa. and earned her bachelor's degree in public relations and marketing from Juniata College. Her background as the General Manager/Advertising Director with Gannett (owner of Public Opinion) included overseeing a $10 million budget, leading a 20-member team through significant operational transitions, developing relationships with key community decision makers and thriving in a fast-paced environment.
"We are excited to have a valuable new team member join the Chamber staff to lead the Foundation," said Stephen Christian, president of the Chambersburg Chamber. "Ginny's expertise with both businesses and nonprofit organizations as well as her long-time dedication to this community will serve as a tremendous asset moving forward."
In addition to her career accomplishments, Ginny has also volunteered extensively in the community. Her service has included involvement with the Boy Scouts of America, Chambersburg Area School District Booster Clubs and St. John's United Church of Christ. Most recently, she completed the Certified Tourism Ambassador program through the Franklin County Visitors Bureau.
Prior to moving to Franklin County, Ginny's early career took her to Cincinnati in the hospitality and weight loss sales/management industries. She and her family moved to the area in 1996 when her husband accepted a teaching position with Wilson College. In her spare time, Ginny enjoys catching up on the latest news or watching baseball. She and her husband Dana have two sons. To contact Ginny, email gharriger@chambersburg.org or call 717-264-7101 ext. 205.