Member Spotlight: Brussel's Cafe
Brussel's has rapidly became a popular destination in downtown Chambersburg for delicious coffee, waffles, crepes and pastries. Since its opening in 2017, owner Alex Hemeryckx has expanded Brussel's to include a unique and picturesque outdoor seating area. They also host a variety of monthly community events, and they are available for private after-hours parties with their in or out-of-house catering services. Brussel's was also nominated for "Best Hot Chocolate" and are the reigning "People's Choice" champions of the Downtown Chambersburg Cocoa Crawl!
Brussel's Cafe will also begin their third tier renovation by adding the Brussel's Lounge prior to Ice Fest, to allow more seating and a private area where business individuals can meet with more privacy while feeling invited within the cozy environment.
Brussel's brings Chambersburg the fusion of a European coffee shop and a bakery, focusing on authentic Belgian Bruxelles waffles and creperie, made to perfection every time. Locals can enjoy a taste of Europe with unique crepes in a variety of flavors, including a special savory crepe option that changes each week.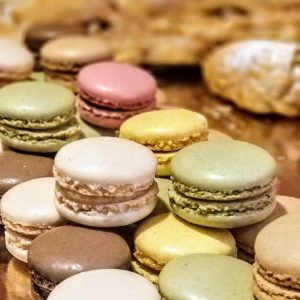 Conveniently located on North Main Street, Brussel's has recently begun curbside delivery service with their online ordering system via Facebook! Stop for morning coffee on your way to work, or settle in for a delicious lunch. No matter the time, between Monday and Sunday, visit Brussel's for a warm atmosphere, friendly staff and exquisite latte art!
Thank you for your membership!
Is your business interested in being spotlighted? Contact Laiton Suders at lsuders@chambersburg.org or 717-264-7101.