Chambersburg Heritage Center
Displaying the History of Franklin County
Exhibit Areas - Original Art - Walking & Driving Tours - Gift Shop - Children's Activity Room

HOURS:
Monday-Friday, 8 a.m.-5 p.m.
Saturdays during May-October from 10 a.m.-3 p.m.

FREE Admission, except for group tours (reservation required)
Free visitor parking / Handicap accessible

VISIT US:
100 Lincoln Way East
Chambersburg, PA 17201
717-264-7101

The Heritage Center is an excellent place to begin your exploration of the region. This historic building located on Chambersburg's Memorial Square in the National Historic District is a renovated 1915 marble bank building, the former Valley National Bank.

The Heritage Center is an interpretive center, explaining five areas of historical merit in Chambersburg and Franklin County through exhibits. There is also a Children's Activity Room, and walking/driving tours are available by scheduling in advance (fee included). The Center opens the door to the distinctive history of Franklin County and its communities.

Check out more information about: Exhibits Gift Shop

For more information about tours, the gift shop and events, call 717-264-7101 or email receptionist@chambersburg.org.
---
Heritage Center Chronicle

The Heritage Center Chronicle is a monthly publication sent to the Center's visitors and volunteers with information about local history, upcoming festivals, community events, Heritage Center updates and more. View recent issues by clicking the links below.

January 2015 February 2015 March 2015 April 2015 May 2015 June 2015 July 2015 August 2015 September 2015 October 2015 November 2015 December 2015
---
Exhibits
Frontier History - In the 1700s, Chambersburg was the frontier. People came to the Cumberland Valley for religious freedom, personal freedom and a better way of life. Scots-Irish immigrants came first, followed by Germans. The land was lush and beautiful with fertile valleys, abundant water, wildlife, game and fish. As the 18th century progressed, tension between the British and the French involved the Indians. Both private and provincial forts were built to inhibit Indian raids. Explore Chambersburg as the frontier in this exhibit.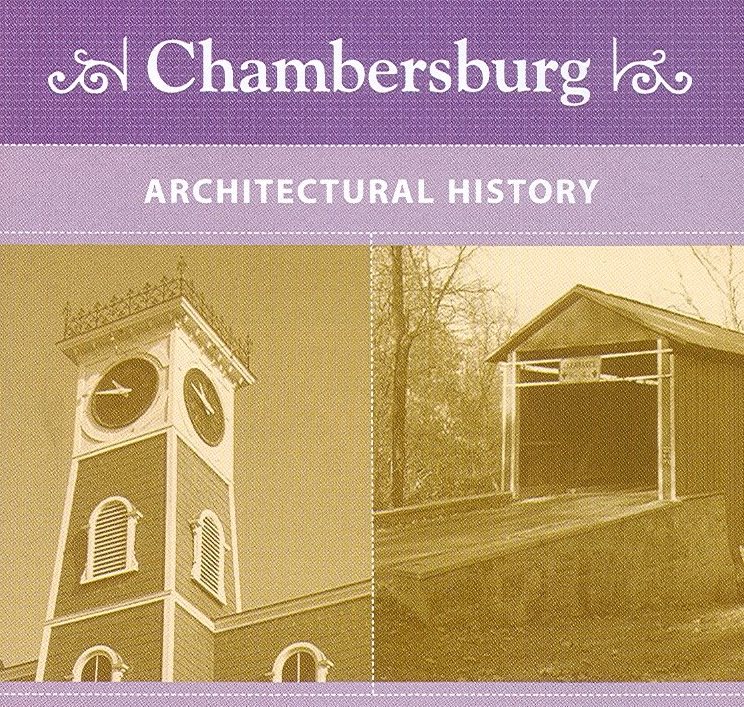 Architectural History - From covered bridges and bank barns to log cabins and Florentine church steeples, the variety of Franklin County architecture compliments the County's scenic beauty. Downtown Chambersburg showcases late Victorian architecture. In an effort to rebuild the downtown quickly after its burning by Confederate soldiers in 1864, several contractors were employed. Each used a "signature" design around the windows called Carpenter's Art. Today, the Carpenter's Art lends to the charm of Chambersburg's downtown.


Transportation History - From Indian trails to the advent of the automibile, Chamberburg's has an important transportation history. Natural resources and geography of the land brought Indians, who made trails for hunting, fishing and trading. Conestoga wagons rolled into the Cumberland Valley, and frontier settlers made their homes along these paths. Progress in transportation continued and railroad ties were soon placed.



Civil War History: The Freedom Trail - From the start, Franklin County played a role in the sectional e in the sectional issues that would erupt in the bloody Civil War in 1861. Because of its proximity to the Mason-Dixon Line, this area served as an avenue to freedom for enslaved African-Americans in the decades prior to and during the four years of the war. Learn how abolitionist John Brown impacted Chambersburg and the issue of slavery and state's rights.



Civil War History: Invasions & Raids - From the start, Franklin County played an important role in many of the major events of the Civil War. Some occurred before war came, some during its peak and some after the outcome of the war was decided. Learn about the sequence of events during the Civil War that led to the devastating invasion of Chambersburg on July 30, 1864 where more than 500 structures burned and 2,000 people were left homeless.


---
Heritage Center Gift Shop

The gift shop includes books about local history, Chambersburg postcards, T-shirts, caps, movies, mugs and more, including 11/30 items commemorating Chambersburg's location at the intersection of Route 11 and Route 30. It's a great place to shop for unique birthday, holiday, graduation or other presents for both residents and out-of-towners.

The gift shop is open during Heritage Center hours from 8 a.m. to 5 p.m. Monday through Friday, and Saturdays in May through October from 10 a.m. to 3 p.m.