by Eric Foreman, Vice President and Commercial Relationship Manager, Susquehanna Bank
Noel Purdy has been with the Chamber over seven years, during which she has successfully grown the
Chamber Foundation
and organized countless downtown events while keeping her thumb on the pulse of the issues concerning Chambersburg. Noel's extensive knowledge and proven leadership within the Chamber and our affiliate organizations is what makes her an excellent choice for the role of Chamber president to succeed David G. Sciamanna.
Last month, I sat down with Noel to learn more about her and discuss her insight on the Chamber and vision for its future as she steps into her new role this month. Below outlines highlights from our conversation:
What do you want the Chamber membership to know about you that they may not know already?
I live in downtown Chambersburg in a federal style house (which we are renovating) with my husband Jeremy and three-year-old daughter Gwendolyn.
I walk to work and go home for lunch most days. I'm a runner and jog quite a bit with my daughter. I push her in a
bright yellow stroller along the rail trail. Gwen has her own running shoes, but she still enjoys the ride rather than hitting the pavement herself. On a hot day, you might find us cooling off from a run in the Conococheague along Wilson College or in the splash pad at Mike Waters Park.
(Pictured right: Noel and Gwen at July's
Second Saturday
in downtown Chambersburg).
I really enjoy living in the heart of the community and having the opportunity to easily access some of its unique offerings - both well-known and lesser-known.
In your opinion, what are the top assets of the greater Chambersburg community?
I think Chambersburg's location is a top asset. It's close to Baltimore, Washington, D.C. and New York City...but not too close. The mountains, parks, farmland and waterways provide a beautiful backdrop that supports a variety of lifestyles and recreational opportunities. Its location along the I-81 corridor also makes it prime for continued commercial development.
The challenge for a community like Chambersburg will be to position itself for continued growth and development in a way that supports "livability," or the assets that make this a great place to live, now and in the future.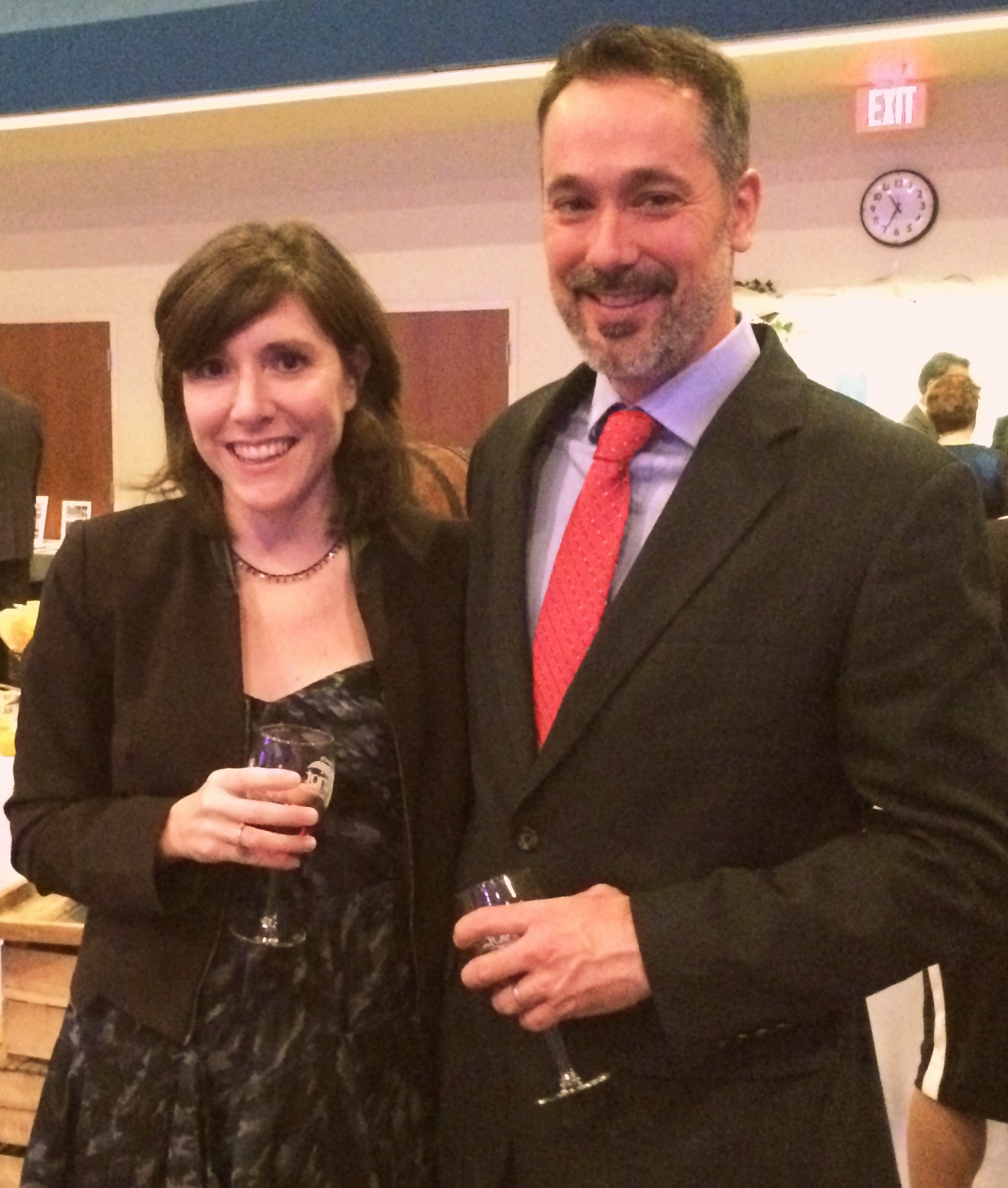 In your opinion, what are the three top benefits the Chamber offers to our members?
1. Networking
2. Unique
marketing and advertising
channels
3. The economic and quality of life programming that we offer through the Chamber and its
affiliates
that is unique to our organizational structure
(Pictured left: Noel and her husband Jeremy at the Chamber's inaugural
Sip & Savor
event.)
What do you hope to accomplish within the first year in your new role as Chamber President?
I'm really looking forward to a seamless transition with the leadership change and keeping everything on track while learning more about our members and their needs.
Where do you see the Greater Chambersburg Chamber of Commerce in five years?
I see our membership base growing as well as having a stronger, more diverse economy. The Chamber is well positioned to support our current and future members and to improve the quality of life in the greater Chambersburg area.